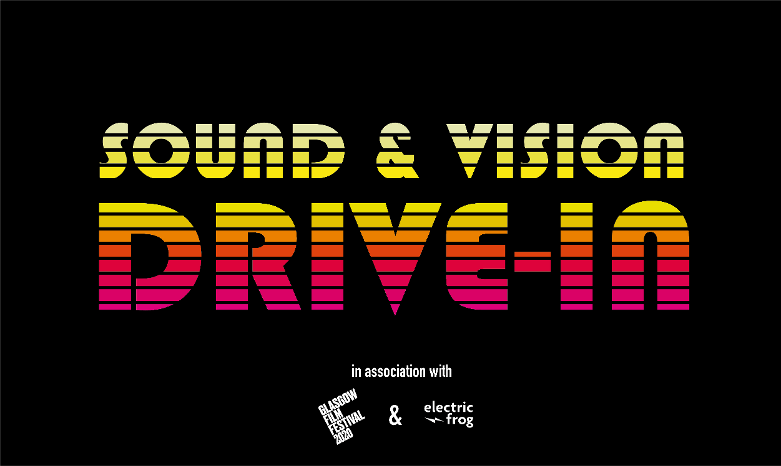 Films and Dates Announced for Music and Movies Drive-In
Special events will be hosted by Glasgow Film Festival and Electric Frog
Details of the Sound & Vision Drive-In events, bringing curated movies and music together, have been announced. Featuring classic titles of horror and comedy, as well as ground-breaking and exhilarating documentaries, and much-loved family films, the events will be held over two weeks in July and August.
Sound and Vision Drive-In brings together two of Glasgow's best-loved festivals in a unique collaboration and celebration of music and film. Glasgow Film Festival (GFF) and Electric Frog, in partnership with MUBI, the curated online cinema, established the events as a safe way to enjoy music and films in a shared environment, while restrictions from COVID-19 prevent many kinds of entertainment from taking place.
Sound & Vision Drive-In will host a series of events which will include iconic music movies, lesser-known GFF gems and also one or two classics from Glasgow Film Theatre, the home of Glasgow Film Festival. Electric Frog are bringing their wealth of music event experience to bring to life a fantastic programme of music events – look forward to concert style production and DJ / music performances around the screenings. We are delighted to be working on these events with Park Circus, the Glasgow-based, global sales agency and distribution company that represents more than 25,000 films.
Originally planned for Glasgow city centre, the venue has been moved to a bigger location next to Glasgow Airport, which will provide more space and improved ease of travel to and from the site.
On-site food will be provided courtesy of the multi award-winning Big Feed. The events will be carried out in accordance with government guidelines regarding distancing and safety.
In addition to a packed programme of films, Sound & Vision Drive-In will also feature one-off curated playlists from some of Glasgow's best-loved bands, DJs and musicians. Further details on this will be announced next week.
Allison Gardner, Glasgow Film CEO and Co-Director of Glasgow Film Festival, said: "Our film selection for these events represents some of the very best titles in horror, comedy and family entertainment. There's a great mix that draws on our knowledge of what audiences in Glasgow and Scotland love, with a sprinkling of exclusive music moments to lift our spirits.
"What makes Sound and Vision Drive-In unique is that it's brought to you by two organisations committed to promoting independent music and cinema, which is particularly important given the current situation. Supporting our local, independent, cultural hubs means they'll continue to exist, and be there to provide all the great entertainment and wonderful memories that watching a film or a music gig brings.
"It's been a long, hard few months for everyone and these events offer the chance to get together and enjoy being thrilled, amused and inspired again."
The line-up:
Sound & Vision programme
Drive-In's headline act is our Sound & Vision film selection which celebrates the special relationship between music and film with a packed programme including: Stop Making Sense, revered as the king of concert films capturing Talking Heads live at the top of their game in 1983; GFF19's Closing Gala Beats, the screen version of Kieran Hurley's award-winning coming-of-age drama set in 1990s Scotland, as teenage best friends have one last big night before the Criminal Justice Bill puts an end to rave culture in Scotland; and timeless cult classic Purple Rain, easily one of the greatest movie soundtracks of all time.
Full Sound & Vision programme: Beats (2019) Stop Making Sense (1984) The Chemical Brothers: Don't Think (2012) Studio 54 (2018) Beats Rhymes and Life: Travels of a Tribe called Quest (2011) Amazing Grace (2019) Purple Rain (1984)
Summer Cinema Essentials
Carefully selected by the programme team from Glasgow Film Theatre, Scotland's original independent cinema, Summer Cinema Essentials features our top Drive-In movie picks across film genres. Making an appearance on the big screen is GFT summer favourite Jaws; visionary filmmaker Spike Lee's BlacKkKlansman; and comedy classic from the 1990s celebrating its 25th anniversary, Clueless. The programme also includes the master of suspense Alfred Hitchcock's Rear Window; John Carpenter's supernatural horror thriller The Fog; and Jordan Peele's critically acclaimed horror thriller Get Out, for those looking for drive-in heebie-jeebies. Remember to lock your doors and windows.
Full Summer Cinema Essentials programme:
The Fog (1980) Casablanca (1942) Rear Window (1954) Aliens (1986) Clueless (1995) Get Out (2017) Jaws (1975) BlacKkKlansman (2018) Carrie (1976)
Moulin Rouge! (2001) Family Favourites Last, but not least, the Family Favourites programme is a collection of films just crying out to be enjoyed by a new generation of cinema goers. The programme includes GFF 2018 Opening Gala Isle of Dogs following the tale of a boy in search of his lost dog on a quarantined island in Japan.
Full Family Favourites programme:
Isle of Dogs (2018)
Where the Wild Things Are (2009)
Matilda (1996)
The Princess Bride (1987)
Dates & Titles
Thursday 30 July
Friday 31 July
The Princess Bride
The Fog
The Chemical Brothers: Don't Think
Saturday 1 August
Clueless
Moulin Rouge!
Beats
Sunday 2 August
Isle of Dogs
Studio 54
Aliens
Thursday 6 August
The Princess Bride
Get Out
Friday 7 August
Where the Wild Things Are
Stop Making Sense
Beats Rhymes and Life: Travels of a Tribe called Quest
Saturday 8 August
Matilda
Amazing Grace
BlacKkKlansman
Sunday 9 August
Casablanca
Jaws
Purple Rain
VENUE
Sound & Vision Drive-In will take place at Direct Parking, 55 West March Road, Paisley, PA3 1BF.