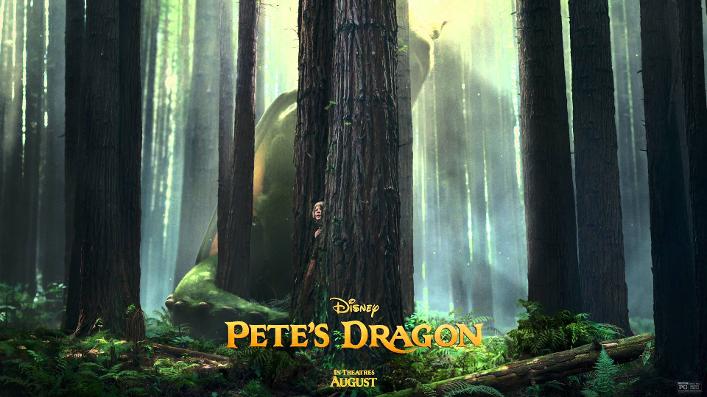 Disney's ongoing efforts to reimagine their own back catalogue continues and reaches its most interesting choice, "Pete's Dragon". Beloved by some but not quite the classic that either The Jungle Book or Cinderella were, the originals once novel mix of actors acting alongside an animated character has dated slightly making it a perfect choice for an update. Advances in special effects could only ensure that the mix of real and imagined is far more seamless and believable.

The key to making this update really work however rests on the shoulders of writer director David Lowery who brings an indie filmmaker sensibility and a strong emotional core to this significantly different take on the material. The director of crime drama and Sundance hit "Aint Them Bodies Saints" may not have seemed the likely choice for a Disney family film but it's a gamble that pays off.
From the beginning a sense of loss and the need for family permeates Lowery and co-writer Toby Halbrooks' moving but never too saccharine script as Pete finds himself lost in the forest after a car crash that kills both his parents. Surrounded by wolves he is rescued by a furry green dragon. Six years later, Pete and the dragon, now named Elliot after the dog in a children's book Pete salvaged from the car wreck, are living a happy and secluded life together. That is until Pete is discovered by local forest ranger Grace and her soon to be step daughter Natalie. After Pete is taken back to town, he is desperate to get back to Elliot, who in turn is searching for him. But Natalie's uncle Gavin discovers the existence of Elliot and hopes to hunt and capture the dragon himself.

The story here is simple and perhaps a little slight, but there is much to like about David Lowery's film. The importance of character over visual spectacle ensures the film is emotionally involving from the start, with Pete's relationship with both Elliot and surrogate mother Grace driving the plot forward.

Once Elliot is in full flight, the visual side of things is well handled too with Weta Digital's excellent work on the titular character complementing the story's grounded believability.
A precarious mix perhaps, this does involve a green furry dragon after all, but one that the filmmakers deliver with total conviction. The gorgeous backdrop of the mountains and forests of New Zealand (convincingly standing in for the US) certainly don't hurt when it comes to visual splendour either.

A strong cast also impresses. The adults are all solid with Howard given a more rounded character here than in last year's Jurassic World. Wes Bentley as Natalie's father Jack is fine and Karl Urban ensures that his brother Gavin is not the one-dimensional villain that he so easily could have been.
Robert Redford meanwhile brings real gravity and experience to Meacham, Grace's father and the only other person to have previously seen Elliot many years before. The child actors chosen are very good too. Oakes Fegley is a real find, bringing to his performance of Pete a sense of both resilience and vulnerability that makes his situation even more moving, while Oona Lawrence as Natalie builds well on the promise she showed in Southpaw.

There is something old-fashioned and timeless in Lowery's tale from its lack of modern trappings (no youtube clips of dragon sightings filmed on mobile phones here) or overly retro details (when it exactly takes place remains elusive), to its Americana tinged soundtrack which includes indie darlings Will Oldham and St Vincent. This, ironically, only makes it stand out even further in a Summer filled with busy and occasionally over-stuffed blockbusters. Some may find its more conventional belief in the importance of the nuclear family a touch regressive perhaps but that's a minor quibble in a lovingly made film whose simplicity and focus makes it one of the more welcome surprises of the year.

News of yet another live action take on Peter Pan earlier this year may have been met with more than a few groans but with Lowery at the helm it is in very safe hands indeed. Kudos to Disney too for hiring such an unlikely director with a strong independent vision in the first place.


Pete's Dragon (PG)

1h 43m

Starring: Bryce Dallas Howard, Oakes Fegley, Wes Bentley, Karl Urban, Oona Laurence, Robert Redford

UK Release: Friday 12th August 2016