Instant Family

Hoping to start a family, Pete and Ellie (Mark Wahlberg & Rose Byrne) turn to the foster care system to make their dream come true. The couple soon learn the joys and frustrations of parenthood when they decide to adopt three siblings, including a rebellious 15-year-old girl.
Trailer & Clips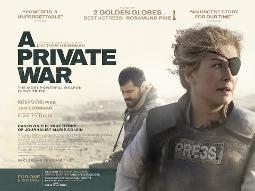 A Private War

Rosamund Pike plays war correspondent Marie Colvin in Matthew Heineman's biopic.
Trailer & Clips
The Kid Who Would Be King
Alex (Louis Ashbourne Serkis) thinks he's just another nobody, until he stumbles upon the mythical Sword in the Stone, Excalibur. Now, he must unite his friends and enemies into a band of knights and, together with the wizard Merlin (Patrick Stewart), take on the wicked enchantress Morgana (Rebecca Ferguson).

Review & Clips
Happy Death Day 2U
When Tree Gelbman (Jessica Rothe) discovers that her boyfriend's roommate has been altering time, sh

e finds herself once again the target of a masked killer. When the psychopath starts to go after her inner circle, Tree soon realizes that she must die over and over again to save everyone
Alita: Battle Angel
Set several centuries in the future, the abandoned Alita is found in the scrapyard of Iron City by Ido a compassionate cyber-doctor who takes the unconscious cyborg Alita to his clinic.
If Beale Street Could Talk
In early 1970s Harlem, Tish, a nineteen-year old girl, is in love with a young sculptor, Fonny, the father of her unborn child. When Fonny is falsely accused of rape and imprisoned, Tish and their families race to clear his name before the baby is born.
The Lego Movie 2
It's been five years since everything was awesome and the citizens are facing a huge new threat: LEGO DUPLO invaders from outer space, wrecking everything faster than they can rebuild.
Review & Clips
All Is True

Shakespeare is acknowledged as the greatest writer of the age. But disaster strikes when his renowned Globe Theatre burns to the ground, and a devastated Shakespeare (Kenneth Branagh) returns to Stratford, where he must face a troubled past and a neglected family.
'Boy Erased' tells the story of Jared (Lucas Hedges), the son of a Baptist pastor in a small American town, who is outed to his parents (Nicole Kidman and Russell Crowe) at age 19.
Review & Clips
Blu-ray, DVD & VOD Releases
Based on a true story of one of Miami's most notorious businessman and gangster, SPEED KILLS is a high-octane thriller, described as "The Wolf of Wall Street on Water." John Travolta (Grease, Gotti), stars as a speedboat racing champion and multimillionaire whose secret life as a drug trafficker lands him in a deadly crossfire between the DEA and the Mob. From the team behind The Iceman, USS Indianapolis and The Mechanic, the film also stars Katheryn Winnick (Vikings), Kellan Lutz (Twilight), Matthew Modine (Stranger Things).

UK Release: DVD and Digital HD on Monday 21st January 2019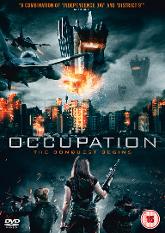 After their small Australian town is annihilated by an airborne attack, a group of civilians evade capture, only to discover they are now among the last remaining survivors of an extraterrestrial invasion engulfing the entire planet. As humanity falls under world-wide occupation, the small group form a home-grown army to fight back against vastly superior and utterly merciless enemy forces.
UK Release: DVD, Blu-ray and Digital Download Monday 21st January 2019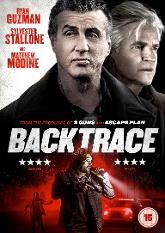 After suffering a brain injury from a bank heist gone wrong, MacDonald (Matthew Modine) develops amnesia and is put into a prison psychiatric ward. Following his seventh year of incarceration, he is coerced by an inmate (Ryan Guzman) and a ward doctor to break out of prison, and he's injected with a serum that forces him to reliv

e the life he's forgotten. MacDonald must now elude a local detective (Sylvester Stallone), a toughened FBI agent, and the drug's dangerous side effects to recover the stolen money.
UK Release: On Digital HD from 7th January 2019 and on DVD from 14th January 2019