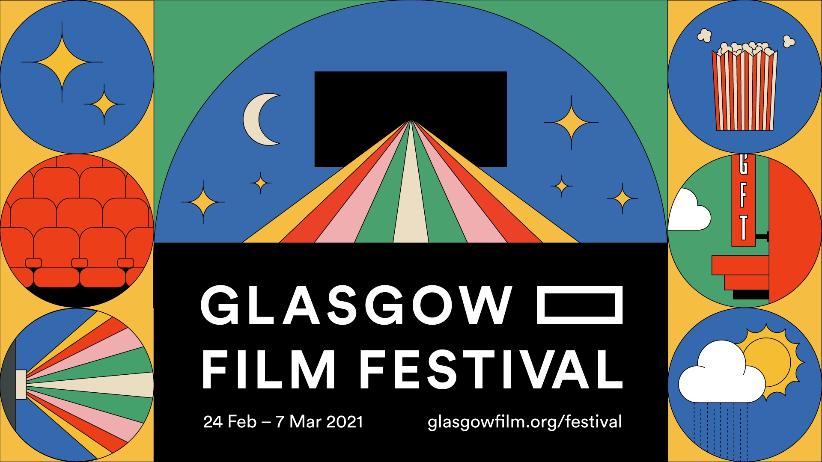 Full programme announced for Glasgow Film Festival 2021 Industry Focus

Events include Spotlight interviews with 1917 writer Krysty Wilson-Cairns and The Mauritanian director Kevin Macdonald

MUBI Ambassador programme for filmmakers under 30 with Ben Sharrock, John MacPhail, Eva Riley and Rachel Jackson
Glasgow Film Festival (GFF) is delighted to announce the full programme for the 2021 Industry Focus, which will run from Monday 1 – Saturday 6 March and will take place completely digitally. GFF will continue to host the very best in industry speakers, topical panel discussions and professional development opportunities. The event is suitable for those at all stages of their film career, from those just starting out to seasoned professionals looking to stay on top of the latest discussions and grow their networks.
Key areas of focus for 2021 include diversity and representation, accessibility and how the film industry is moving forward during the Covid-19 pandemic. Highlights in the programme include: Industry Spotlight interviews with Krysty Wilson-Cairns, writer of the Oscar-winning 1917 andThe Mauritanian directorKevin Macdonald, sponsored byNFTS Scotland; case studies withLimbo director Ben Sharrock and The Host director Rob Savage on the making of their two very different films; a South Korean Country Focus event in collaboration with the Korean Cultural Centre UK with Voice of Silence director Eui-jeong Hong and Min-ho Woo, director of The Man Standing Next, South Korea's 2021 Oscar submission; and Girls On Film podcast will return to record an episode at GFF after joining us in 2019. Panels will include a discussion on disability in film with Scottish filmmaker Martin Smith and Justin Edgar, director of 104 Films, the GFF Young Selectors tackling the debate 'to go to film school or not to go to film school', and NFTS Scotland will host an event on intimacy coordination for filmmaking in the age of coronavirus. GMAC will return to host a session on their micro budget film scheme Little Pictures, and BECTU return to GFF for a digital edition of their Career's Fair, after hugely successful events at GFF in 2019 and 2020. We are also happy to announce the next edition of BFI Doc Society Local will be held during the Festival, delivered as part of BFI NETWORK through National Lottery funding, in association with the Scottish Documentary Institute.
Glasgow Film Festival are excited to be partnering with MUBI on an Ambassador programme for filmmakers under 30, which will identify four individuals within the sector to hold up as examples of talent. The Ambassadors, who will be highlighting under 30s talent in the GFF programme, are Limbo director Ben Sharrock, John MacPhail (Anna and the Apocalypse) , Eva Riley (Perfect 10) and actress Rachel Jackson (Beats). In addition, we have reduced price passes to the full Industry programme available to filmmakers under 30 in the UK, sponsored by MUBI. Passes are limited and we actively encourage applications from individuals currently under-represented in the screen industries, which includes writers, directors, and producers from ethnic minority backgrounds, disabled and D/deaf people, the LGBTIQI+ community, and women.
BIRDS' EYE VIEW have partnered with Glasgow Film Festival to offer free access to 25 aspiring filmmakers, curators and critics as part of their Community Fund made possible by The National Lottery Community Fund via the London Community Response Fund administered by City Bridge Trust. The new initiative will reach members from communities across London to remove barriers amplified by the COVID pandemic, and ensure continued access to films by womxn and invaluable industry conversations and opportunities. The initial response will run from November 2020 to June 2021 and include partnerships with schools, local authorities and community organisations who are at the forefront of supporting vulnerable people during the COVID crisis. More info can be found here https://www.birds-eye-view.co.uk/rtf-covid-19-community-response-fund/
The festival will highlight a number of films made by and starring under 30s

Previously announced events include a panel discussion and masterclass curated by Natasha Ruwona and Tomiwa Folorunso, programmers of 'Welcome To', a GFF programme with a focus on Black Scottish films, filmmakers and history. This programme has been made possible by Film Hub Scotland through the BFI Film Audience Network (FAN) Film Exhibition Fund, supported by Screen Scotland and National Lottery funding from the BFI. To support the continued development of Black Scottish film networks, we have a number of GFF Industry passes available free of charge for Black filmmakers throughout the UK who have not previously attended Glasgow Film Festival. For more information please go to https://glasgowfilm.org/glasgow-film-festival/industry .
Industry Focus passes available include the standard Industry pass, which gives access to the online Industry events programme only, and the Industry Plus pass, which includes access to the full industry programme online, Press and Industry screenings and additional networking opportunities. Industry Plus passes are available to purchase until midnight on Sunday 14 February and Standard Industry passes are available until midnight on Sunday 21 February. More information on the passes is available on our website: https://glasgowfilm.org/glasgow-film-festival/industry .
Allison Gardner, CEO of Glasgow Film and Glasgow Film Festival Co-director, said: "Glasgow Film Festival's Industry Focus aims to make filmmaking spaces as accessible as possible, with advice from some of the best in the industry, opportunities to network and room to discuss difficult questions. We are delighted to be working with MUBI this year on our under 30s ambassador programme, as well as providing reduced price passes to those underrepresented in the screen industry who we most want to join us in these discussions. I am also excited to welcome Scottish writer Krysty Wilson-Cairns to the programme. We have long been a fan of her work at GFF."
Ben Luxford, Head of UK Audiences at the BFI, said : "This year's Industry Focus will offer new and established filmmakers a much needed space to discuss and explore the craft of filmmaking in our current times. The 'Welcome To' programme on Black Scottish filmmaking is a particularly exciting addition this year, and the case studies, including the BFI-backed Limbo, are sure to be insightful. We're grateful to National Lottery players for enabling the BFI to support Glasgow Film Festival's activity.