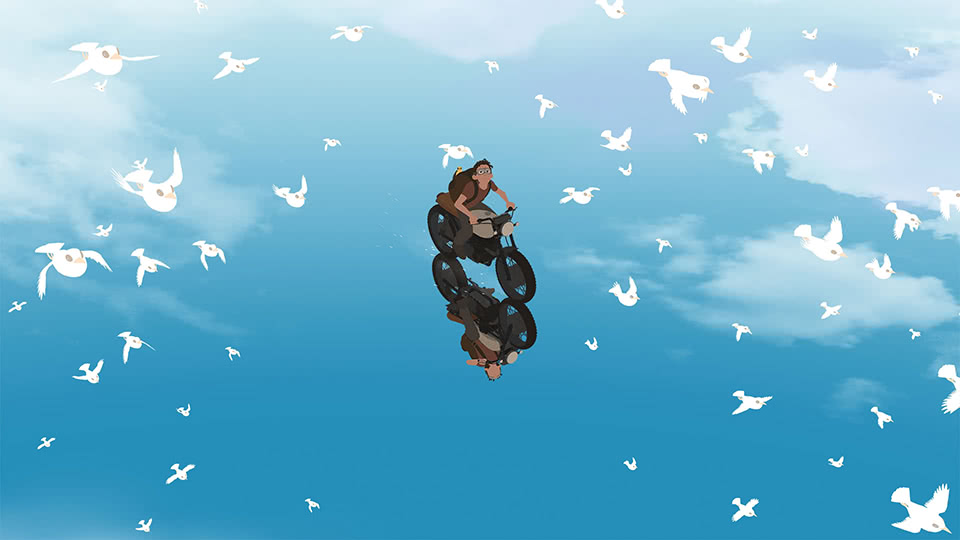 Three years in the making, Latvian Gints Zilbalodis's animated film Away is something of a labour of love as Zilbalodis had a hand in just about every aspect of the film. From the exquisite score, which plays a massive part in the film as there's not a single word of dialogue, to the stunning animation Zilbalodis's footprint is everywhere.
Away begins with a young boy dangling by parachute from a tree. Rescued by giant black lumbering giant he's taken to an oasis where the plants are as tall as double decker buses and the trees are ripe with an abundance of fruit.
After finding out that he's on a remote island and being trapped in by the giant he's forced to escape on a motorbike that he finds in the oasis.
The short running time, it's only 75 minutes long, is taken up by the boys journey across the island. Along the way, as he's followed by the giant, he comes across various creatures and has to deal with a number of trials and tribulations, one scene sees him trying to stop the giant crossing a wooden bridge, Zilbalodis's musical score is used to full effect here as he uses it in order to ramp the tension up to almost unbearable levels.
Away is a gorgeous looking film that will probably leave the audience with more questions than answers by the end of it but never the less it's still a fascinating piece of filmmaking and certainly deserves to be seen by a wide audience.
Gints Zilbalodis; director, writer, producer, animator and film score creator of mesmerising animation AWAY, will be releasing his critically acclaimed film to UK digital download platforms with Munro Films on January 18th.
AWAY
was a labour of love spanning 3 1/2 years and a journey Gints embarked on alone, with no formal training and on a shoestring budget.
AWAY
is a stunning, dialogue-free film about a boy travelling across an island on a motorcycle, trying to escape a dark spirit and get back home. Along the way, he makes a series of connections with different animals and reflects on the possible ways he ended up on the island. Part dream, part reality,
AWAY
explores our common, universal need to find a connection. When asked about the relevance of the boy's solo journey to the thousands of people in the UK isolated in lockdown at the moment, Gints says
"I hope that AWAY
shows how important it is for us as humans to find connections with others and that we need to keep going." He praises the power of visual storytelling and symbolism, which encourages viewers to assign their own meanings to films. The will to keep going through this seemingly impossible project was something that Gints struggled with personally. He says that
AWAY
is ultimately a reflection of his own creative journey, which he set out on alone as a
"very inexperienced"
24 year old. After leaving arts high school, Gints went straight into independent animation, having several short films under his belt already. He knew nothing about making music or where to start with creating a feature film. Gints started by sticking with what he knew and drew on his grounding in short film making. He says,
"I decided to split the story in 4 parts and make them as 4 separate short films, which could eventually be put together again and shown as a feature. This made the transition from making shorts to features a bit easier for me, because I could focus on one chapter at a time and not be overwhelmed by the amount of work to do."
The score, which has been hailed 'wonderful' and 'entrancing' by critics was inspired by minimalist musicians Max Richter, Philipp Glass, Trent Reznor and Atticus Ross. Gints maintains that his lack of composition knowledge was actually beneficial in hindsight. He says, "I wanted to avoid a traditional orchestral score and thought that a more atmospheric, minimalistic feel would be better suited to AWAY ." After being overwhelmed by the professional music creation software, Gints took to experimenting on different music apps for beginners on his phone. As he got more confident, he moved on to computer programs to manipulate sounds, which made the score wholly unique to the film and organic.
Gints' refreshing and simplistic take on animation was called was called 'sublime' (Total Film), 'Wondrous' (Guardian) and 'simply extraordinary' (Metro) by critics on its release in cinemas in August.
AWAY
also won the prestigious Contrechamp Award at Annecy International Animation Film Festival 2019, amongst others. A mind blowing achievement for a single handed creative. You only have to look as far as the credits after a Disney or Pixar film to know that feature length animations like this usually take a village. To have only one name at the end of
AWAY
makes it a freak of nature (in a good way) and a testament to the filmmaker's unwavering grit and determination. Gints is currently working on his second animated feature film
Flow
.