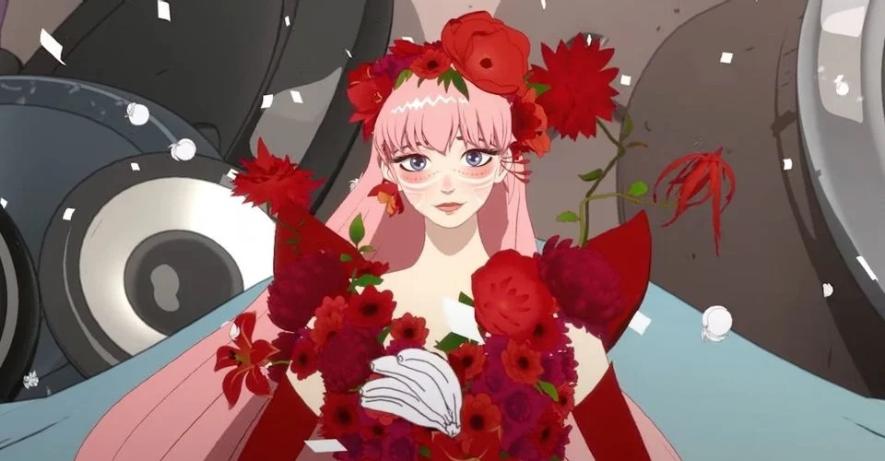 The world premiere of BELLE, the latest animated feature film from award-winning director Mamoru Hosoda, was met with cheers and a fourteen-minute standing ovation following its world premiere at the 74th Cannes Film Festival on Thursday July 15th - the seventh longest in the festival's history. Critics responded with enthusiasm on Twitter following the premiere, with Phil de Semlyen calling it a dazzling cyber fairy-tale,and Robbie Collin adding that "there is usually one film per Cannes that emotionally bulldozes me, and this year Belle was it.
Anime Limited , Europe's premiere distributor for Japanese animation, will be releasing BELLE in the United Kingdom, Ireland, and France.
BELLE , the journey of a shy and self-conscious teenager finding herself through the avatar of a world famous virtual singer, is a film that reaches beyond borders both on and off the screen with a creative team showcasing the calibre of global talent in modern animation . The striking character designs for the character of Belle come from Jin Kim, best known for Disney modern classics Frozen,Moana,and Tangled, with the film's world enriched by breathtaking art from the Oscar®-nominated team of Tomm Moore and Ross Stewart (Cartoon Saloon's Wolfwalkers, Song of the Sea.
When gathering the team for BELLE, Hosoda also sought talent from beyond the realms of animation, collaborating with British architect and designer Eric Wong on designing the virtual world of "U". Swedish composer Ludvig Forssell also makes his theatrical debut with BELLE, having spent the last decade working with the legendary video game designer Hideo Kojima, scoring critically acclaimed games such as Death Stranding and Metal Gear Solid V: The Phantom Pain.
BELLE is written, directed, and produced by the celebrated filmmaker Mamoru Hosoda whose previous works include Mirai, The Boy and the Beast , Wolf Children, Summer Wars, The Girl Who Leapt Through Time, among other classics.
Anime Limited previously distributed Mirai, the previous film from Mamoru Hosoda and Studio Chizu, in the UK, France, and Ireland. After debuting at the Director's Fortnight in Cannes, Mirai went on to receive a nomination for "Best Animated Feature" from the 2019 Academy Awards and become the first Japanese animated feature to receive a nomination for "Best Feature - Animated" at the 2019 Golden Globe Awards
Synopsis:
From the celebrated Oscar®-nominated director Mamoru Hosoda and Studio Chizu, creator of Mirai, Wolf Children, Summer Wars, and more, comes a fantastical, yet beautiful and contemporary thematic story of one girl's growth in the age of social media.
Suzu is a 17-year-old high school student living in a rural village with her father. For years, she has only been a shadow of herself. One day, she enters "U," a virtual world of 5 billion members on the Internet. There, she is not Suzu anymore but Belle, a world-famous singer. She soon meets with a mysterious creature. Together, they embark on a journey of adventures, challenges and love, in their quest to become who they truly are.