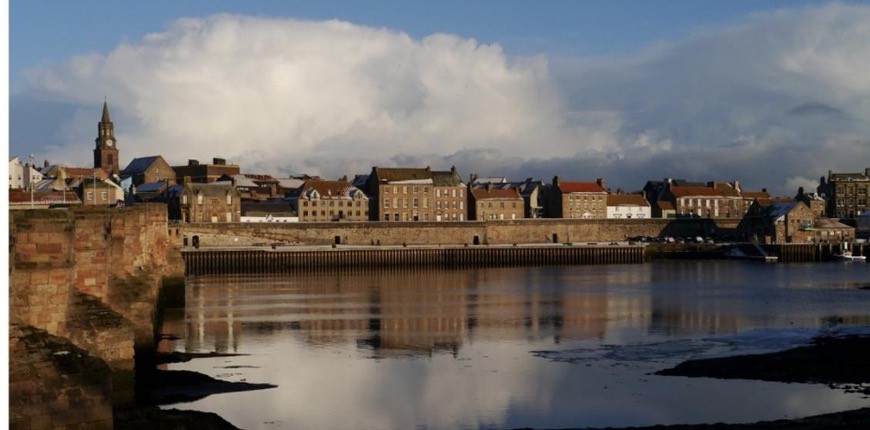 18th Berwick Film & Media Arts Festival announce full 2023 programme line-up
The 18th edition of the UK's festival for new cinema takes place in Berwick-upon-Tweed on 3-5 March 2023
The festival recognises the most distinctive voices in moving image from across the world 7 World Premieres, 3 International premieres, 2 European premieres and 19 UK festival premieres take place at the festival
Berwick Film & Media Arts Festival (BFMAF) has announced the full programme line-up for the 18th edition of the festival which will take place on the 3rd - 5th March 2023. Across its programme the festival champions films and filmmakers who push the boundaries of genre, form and convention to surprise expectations and enliven audience relationships with cinema.
The festival continues to explore what moving images can be and what they can do to help us navigate the increasingly fractured and perplexing world we all live in. With new funding from North of Tyne Combined Authority to reach more audiences, as well as renewed funding from partners including Arts Council England, BFI Audience Fund (awarding funds from the National Lottery) and Northumberland County Council, the festival has created a fully in-person programme of screening events and exhibitions taking place across the town.
This year's Opening Night gala will be the UK premiere of Anerca, Breath of Life (2022) by Finnish father and son filmmaking team Markku Lehmuskallio & Johannes Lehmuskallio which documents the singing, dancing, and forms of contemporary living amongst indigenous peoples living in the Arctic Circle. 'Anerca' means soul, or the breath of life that binds individuals and communities.
This year's Closing Night film is the UK premiere of the smart, funny and razor-sharp satire
Arnold is a Model Student
(2022). Inspired by the Bad Student movement calling for educational reform in Thailand, the film follows the titular protagonist as he joins forces with
Arnold Is a Model Student closes the Festival on the 5th March

Life on the Caps receives its UK Premiere

Highlights from this year's programme include:
A premiere UK screening of Walter Saxer's little-seen, incendiary documentary Sepa: Our Lord of the Miracles (1987) about an experimental and controversial open-air penal colony in the Peruvian Amazon echoes the work of frequent-collaborator, Werner Herzog.
John le Carré meets Derek Jarman in the UK festival premiere of Ungentle (2022), a subtle reflection on the complex relationships between the development of British espionage and male homosexuality. The film is based on extensive research and is voiced by actor Ben Whishaw.
Part political satire, part zombie stoner film and informed by contemporary internet culture, renegade remixologists Soda Jerk return with the UK premiere of Hello Dankness (2022), a bent suburban musical comprised entirely of pirated film samples that bears witness to the psychotropic cultural spectacle of the period 2016 to 2021.
The UK premiere of Cláudia Varejão's delicately nuanced debut fiction film Wolf and Dog (2022) is a luminous ode to queer communities on the Azores island of Sao Miguel.
Jon Moritsugu's newly-restored cult classic Terminal USA (1993) is an irreverent slice of early 90s punk culture satirising representations of the Japanese-American family unit that shocked America when it was broadcast on television in the mid-90's.
The UK festival premiere of Meriem Bennani's playful sci-fi trilogy Life on the CAPS (2007) mixes live action, day-glo animation, and a kaleidoscopic score by Fatima Al Qadiri to explore the entangled politics of immigration, state control, and the border zone.
There will be a presentation of 2 newly digitised debut Helena Solberg short films (1966-69) alongside her 1982 feature From the Ashes: Nicaragua Today where the acclaimed Brazilian documentarist brings a multi-layered feminist perspective to a political and societal portrait of the country following the 1979 insurrection that overthrew the Somoza dictatorship.
The UK festival premiere of Luke Fowler's Being in a Place - A Portrait of Margaret Tait (2022) draws on a wealth of unseen archival material and unpublished notebooks from the Scottish doctor, filmmaker and poet. At the centre of the work is an imagining of an unrealised script for a feature film discovered amongst Margaret's documents in Orkney, Scotland which represents a document of a landscape, and of a journey through it.
Inspired by forms of contemporary dance, celebrated Argentinian filmmaker Lucrecia Martel explores themes of class, labour and gender violence in the UK premiere of short film Maid through the story of a woman who applies for a job as a maid, haunted by an unspecified family trauma.
The festival is organised into regular strands including the New Cinema Awards which celebrates some of the most distinctive works of new cinema and artists' moving image. Uniquely, all selected filmmakers in this strand receive an award rather than a single winner chosen by a jury.
The Essential Cinema retrospective series which proposes a revisionist view of what might be considered major works of cinema andPropositions which gives filmmakers and programmers time to expand on and contextualise their work including Code Names, a screening-performance by award-winning Iranian artist, Maryam Tafakory.
As part of the Exhibitions strand, artists will present new and recent moving image works, including work from acclaimed artists and new work from Christopher Ulutupu, in a selection of Berwick's public spaces including reanimating civic buildings, a local shopfront, and an 18th century ammunition store. The Festival Club at the Magdalene Fields Golf Club then gives everyone the chance to cut loose on the dancefloor with DJs Miss Mobile Disco and noodle. The Filmmaker in Focus strand the first UK retrospective of acclaimed filmmaking duo Markku Lehmuskallio (born 1938, Rauma, Finland) & Anastasia Lapsui (Nenets, born 1944, Yamal Peninsula, USSR). Their narrative and documentary features made across four decades centre on people, stories and perspectives indigenous to the Arctic Circle. Screentime is the filmmaking and cinema programming strand with and for young people.
Individual tickets for the festival go on sale early Feb and are frozen at 2019 prices.
Passes to the weekend are now on sale and along with travel and accommodation details are available via the BFMAF website at
https://bfmaf.org/tickets/
Peter Taylor, Director of Berwick Film & Media Arts Festival said:
"We could not be more excited to welcome audiences back to our fully in-person festival this year. As our new Spring festival dates promise, the festival has a new energy and a new lease of life and one which is reflected in a programme of screenings and events which is just as eclectic and exciting as ever. Across the town, we look forward to collectively sharing these new and retrospective works with cinema-lovers as well as offering up more than a few surprises along the way."