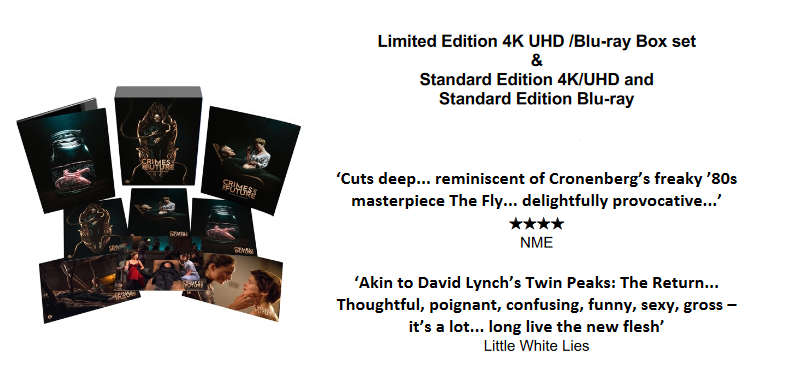 From the auteur of body horror himself – visionary director David Cronenberg – comes the critically acclaimed Crimes Of The Future in a brand-new Limited Edition Dual 4K /Blu-ray Box Set.
The 2022 sci-fi epic has been lauded as 'provocatively feverish stuff from the dearly missed vintage annals of Cronenberg' (Rogerbert.com), and bears the Canadian maestro's hallmarks, delving into the depths of dystopia to bring audiences fresh iterations of horror and now Crimes of The Future is set for a must-have, release from the masters in the field Second Sight Films this September.
The box set comes as a dual format edition, including both UHD and Blu-ray versions, with the main feature and bonus features on both discs and is presented in a stunning rigid slipcase box with new artwork by Marko Manev. It comes complete with a 120-page book featuring new essays and includes a host of fantastic special features, please see full list below. It will be released on 11th September 2023 and will also be available in Standard Edition 4K UHD and Standard Edition Blu-ray.
In the not-too-distant future, humanity has been forced to adapt to a synthetic environment and the human body has undergone new transformations and mutations. In a world where diseases and physical pain no longer exist, one man, Saul Tenser (Viggo Mortensen – Lord Of The Rings, Green Book, The Road, Captain Fantastic), has the strange and fascinating ability to grow new organs inside of his body. Joined by his partner Caprice (Léa Seydoux – The French Dispatch, No Time To Die, Blue Is the Warmest Colour) the celebrity performing couple capitalise on his metamorphosis, showcasing the spectacle for a live audience.
Witnessing the marvel first-hand, Timlin (Kristen Stewart – Spencer, Twilight, Still Alice) is immediately stirred by her discovery and shares news with her boss Wippet (Don McKeller – Last Night, Blindness) – the leader of a mysterious group, the National Organ Registry – who want to use Saul's notoriety to shed light on the next stage of human evolution...
Crimes Of The Future is an imaginatively intense and visually explicit masterpiece from a legendary director whose films consistently deliver shocking twists and unexpected thrills and this highly anticipated collector's edition will immerse you in a freakish futuristic world like never before.
Dual format edition including both UHD and Blu-ray with main feature and bonus features on both discs
UHD presented in Dolby Vision HDR
New audio commentary by Caelum Vatnsdal
Undeniably a Love Story: an interview with director David Cronenberg
Things Change: an interview with Viggo Mortensen
The Chaos Inside: an interview with Léa Seydoux
The Heat and the Grime: an interview with Kristen Stewart
The Bureau Man: a new interview with Don McKellar
Painkiller: a new interview with producer Robert Lantos
The Most Wonderful Dream: a new interview with cinematographer Douglas Koch
The Code of David: a new interview with editor Christopher Donaldson
New Flesh, Future Crimes: The Body and David Cronenberg – a video essay by Leigh Singer
The Making of Crimes of the Future
Production Design Materials
Short film: The Death of David Cronenberg
Limited Edition Contents
Rigid slipcase with new artwork by Marko Manev
120 page book with new essays by Reyna Cervantes, Tim Coleman, Joel Hartley, Rich Johnson, Mikel Koven, Phil Nobile Jr, Ian Schultz and Hannah Strong
Six collectors' art cards
Crimes Of The Future
1h 47m
Director:
David Cronenberg
Cast:
Viggo Mortensen, Léa Seydoux, Kristen Stewart, Scott Speedman, Welket Bungué, Don McKellar, Yorgos Pirpassopoulos, Tanaya Beatty, Nadia Litz, Lihi Kornowski
UK Release:
11th September 2023