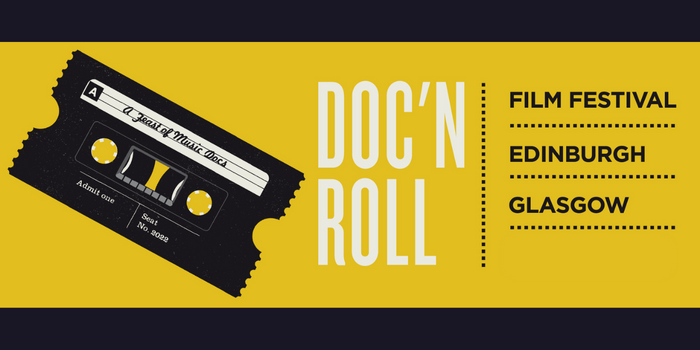 Doc'n Roll Film Festival Returns to Scotland this November with seven Scottish big screen premieres
The ninth edition of the music documentary festival will run at GFT Glasgow 2 - 6 November and Cameo Picturehouse Edinburgh 5 - 12 November Highlights include the story of how a Sheffield council estate semi became the birthplace of electronic music in the North, the courageous apartheid-era South African trio that formed when it was illegal for them to play or live together and a celebration of the queer, radical roots of London's New Romantic visual art, fashion and music scene in the wake of punk.
Doc´n Roll Film Festival returns to big screens nationwide this autumn, with screenings in Glasgow and Edinburgh as part of its 13-city UK tour.
Running from 2-6 November at GFT Glasgow and 5-12 November at Cameo Picturehouse Edinburgh, the ninth edition of the music documentary festival will screen a hand-picked selection of new features and shorts showcasing major artists and unsung heroes, cult icons and underground subcultures.
The festival will boast 7 Scottish feature documentary premieres:
● A Film About Studio Electrophonique: The story of how a Sheffield council estate semi owned by panel beater, fly fisherman, water skier and midwife Ken Patten became the birthplace of electronic music in the North. Now vacant, 32 Handsworth Grange Crescent, across from The Everest pub, is where the first recordings were made for early incarnations of the bands that became The Human League, ABC, Heaven 17, Def Leppard, Clock DVA and Pulp. Not to mention the more esoteric and rarer sounds of The Electric Armpits, The Naughtiest Girl Was a Monitor and Systematic Annex. Until now, Ken's work never attracted the attention of the masses and, by the time the bands had found fame and all bought yachts – or at least gold lamé suits – Ken had shifted back to his own unit, knocking out dents in a garage beneath the Wicker Arches.
(Glasgow 2 November; Edinburgh, 11 November)
● This Is National Wake: In 1979, in defiance of an illegitimate, racist South African regime that kept Blacks and whites separate and unequal, three young men – Ivan Kadey, a white Jewish guitarist from Johannesburg, and Gary and Punka Khoza, two Black Shangaan brothers from Soweto – dared to launch the trio National Wake. In a time and place where it was illegal for these young musicians to play or live together, their band and its fans fought back with music. They smashed every law to rebel – and filmed themselves doing so, with remarkable foresight and nerve. Forty years after National Wake was shut down by South Africa's apartheid regime, veteran New York music journalist Mirissa Neff makes her feature debut, telling the their story with the band's own astonishing previously archival footage (Glasgow 4 November, Edinburgh 9 November)
● Lee Fields: Faithful Man: A portrait of the uniquely charismatic US soul singer, whose voice was frequently compared to James Brown but with a style that was all his. Through the Seventies, he made his living touring the legendary Chitlin' Circuit in the southern US, alongside some of the greatest names in blues and soul history, later landing a gig with Kool and the Gang before their rise to fame. But as the Seventies came to a close, disco began its reign and his soul career plummeted. For decades, Lee Fields thought his music dreams were dead. But with one phone call, everything changed… (Glasgow, 5 November)
● TRAMPS! The Death Of Punk, The New Romantics, The Art Of Survival : Rising from the nihilistic ashes of the punk movement in the late 1970s, a fresh crowd of flamboyant fashionistas and irreverent misfits who would later be christened the New Romantics began to materialise on the streets of London. TRAMPS! is a feature-length documentary that looks at how an onslaught of art students arriving in the city in the 1980s resulted in a unique cross-fertilisation of queer culture, visual and performance art, fashion, music and film, and a flourishing of radical, subversive creative output. (Edinburgh, 5 November)
● Getting It Back: The Story of Cymande: The British group Cymande are unsung heroes: the first British band to play at Harlem's legendary Apollo, their message of peace, love and funk sailed far beyond Britain's shores and helped shape music for five decades. Long after they stopped playing in the 1970s, their innovative jazz-rock-funk music played on, with tracks including the iconic 'Bra' sampled by the likes of De La Soul, Wu-Tang Clan, the Sugarhill Gang, MC Solaar and the Fugees, so they returned to play some more. In GETTING IT BACK, their story is told on screen for the first time, with tributes from a galaxy of musicians and producers influenced and enthralled by their music, including Mark Ronson, Norman Jay, Jazzie B, DJ Maseo of De la Soul, Jim James and Louie Vega. (Glasgow, 6 November; Edinburgh, 12 November)
● Age of Rage: The Australian Punk Revolution: When the first wave of punk broke on Australian shores in the 1970s, it was met with a fierce embrace that continues to reverberate today. Adopted and adapted with fearsome intensity by disenfranchised, pre-globalisation Australian kids as a challenge to the isolation and cultural vacuity of mainstream Australia, punk Down Under was a DIY counterculture – a profound, visceral critique of late 20th-century capitalism. Australian punk chose values and agendas that for many have become lifelong, and its revolution full of rage, angst and defiance has evolved. AGE OF RAGE shows that while some still stand at the edges of society, others have re-engaged, bringing their punk values with them. (Edinburgh, 8 November)
● TRIP: A journey into the World of Psychedelic Sight & Sound : An intimate film by documentary photographer and filmmaker Lilly Creightmore that captures the story of a handful of artists old and new who influenced a resurgence of psychedelic-inspired sound, at a time when a small few of her generation were in search of alternatives to the corporatised music industry.
Creightmore captures heady live performances and intimate behind-the-scenes footage of a global cohort of artists, from the US, UK, Iceland, Europe and South Africa, including garage-psych legend Roky Erickson on tour with current-day stalwarts The Black Angels, a one-off Spacemen 3 reunion, and candid footage of Dead Skeletons, Tess Parks, Anton Newcombe and The Brian Jonestown Massacre, Sonic Boom, The Night Beats in Africa, The Underground Youth and Medicine Boy in Berlin. (Edinburgh, 10 November)
The festival will also host a rare Scottish screening of Rewind And Play: Theolonius Monk (Glasgow, 3 November), where the jazz genius takes down an arrogant journalist in an infamous 1969 French TV interview, alongside UK premiere short films including Fifty Days, following musician Marie Naffah through her 2021 challenge to perform 50 gigs in 50 days, and A Man For Our Time, an animated interview piece with lo-fi pop pioneer Martin Newell of The Cleaners From Venus.
Vanessa Lobon Garcia, director and co-founder of Doc'n Roll, says : "Even in the hardest of times, music and film help us to find hope, comfort and community, so I am delighted that once again this year, Doc'n Roll can offer so many reminders of the joy that music-makers and filmmakers bring us.
"I love music documentaries and I hope to bring that love to more women. As we see from the projects submitted to Doc'n Roll for consideration, we are still far from gender equity in terms of music documentary directors and subjects," she notes. "This year, we are ensuring that our UK touring programme has a 50/50 gender balance, as part of our commitment to helping first and second-time female directors tour their films in the UK. I hope this plays a part in inspiring female filmmakers to see that music documentary-making isn't just a man's world. Everyone is welcome to celebrate the power of music."
Lobon adds: "This year we want to ensure our programme is accessible to hearing-impared audiences, and when possible to blind audiences, too. Some of this year's films will be available to watch with subtitles, and this year all our shorts will be subtitled, to spread the opportunity to watch a great selection of films as widely as possible."
Six films in this year's lineup will compete for the Doc'n Roll Jury Award for Music Doc of the Year , judged by a panel of music and film luminaries . In the running for the Award are:


● This is National Wake
● Lee Fields: A Faithful Man
● Getting It Back: The Story of Cymande
● Rewind and Play: Thelonious Monk
● God Said Give 'Em Drum Machines: Detroit Techno
● What You Could Not Visualise: Rema-Rema
Doc'n Roll Film Festival is supported by the BFI using National Lottery funding in order to bring this project to more audiences across the UK.
Tickets on sale via https://www.docnrollfestival.com/films/
Rewind And Play: Theolonius Monkis showing at the GFT on the 3rd November
This Is National Wake screens in Glasgow on the 4th and Edinburgh on the 9th November