DOC'N ROLL SCOTLAND FILM FESTIVAL
1-11 NOVEMBER 2021
Doc´n Roll Scotland Film Festival returns - at last! - to the big screens of Glasgow and Edinburgh for its third annual edition. Four feature-length documentaries will take pride of place at Glasgow Film Theatre and the Cameo Picturehouse from 1 to 11 November, with 13 more full-length films and 8 shorts screening online UK-wide from 7 to 14 November. , The music documentary festival, which will run in Glasgow 1-4 November and Edinburgh 5-11 November, alongside an online programme of UK premieres running 7 - 14 November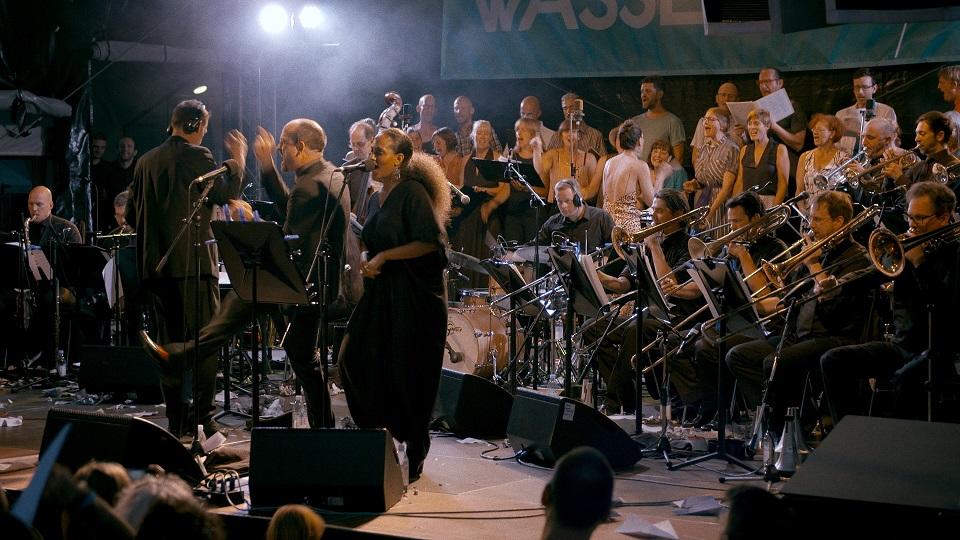 A Symphony Of Noise screens at the GFT on 4th November
Following Doc'n Roll's first Scottish offerings in late 2018 and 2019, and a lockdown-imposed hiatus last year, 2021 sees the UK's Music Documentary Festival back in Scotland with a bang. Screening include cinematic portraits of art-pop icon St. Vincent, acerbic No Wave pioneer Lydia Lunch, spiritually-charged Irish singer-songwriter Damien Dempsey and classical/electronic sonic adventurer Matthew Herbert. (And a note for those outside Glasgow and Edinburgh: Doc'n Roll Scotland promises to be back in Scotland in spring 2022 to take a great roster of docs to more cities.)
Turning from the big screen to home screens: for this year's online offerings, the on-demand streaming service Doc'n Roll TV will spotlight a dazzling breadth of scenes, eras, genres and stories. You'll see rebels and romantics, outliers and outlaws, DIY labels and fabled studios, Turkish composers and Marseilles rappers, a Québécoise club-culture subversionist and Native American heavy metallers, and the enduring mystery of a pioneering 1950s singer-songwriter who simply disappeared.
Doc'n Roll Scotland's two spotlight locations are among 12 cities welcoming Doc'n Roll this year. Doc'n Roll London is entering its 8th year and running from 28 October to 14 November, and this year there will also be Doc'n Roll regional festivals in Brighton, Cardiff, Exeter, Liverpool, Manchester, Newcastle, Nottingham and Sheffield. In addition, Doc'n Roll is going international, launching with a new Doc'n Roll festival in Oslo, Norway starting on 2 October.
Lydia Lunch: The War Is Never Over screens at the Edinburgh Cameo Picturehouse on 8th November.

Damien Dempsey: Love Yourself Today screens at the Glasgow Film Theatre on 1st November
The Cameo in Edinburgh and GFT in Glasgow will host screenings of:
Lydia Lunch: The War Is Never Over, the first career-spanning documentary to cover New York City's preeminent No Wave punk icon's compelling, confrontational and inspirational artistry.
The Nowhere Inn: St. Vincent , starring real-life friends Annie Clark (a.k.a. Grammy-winning artist St. Vincent) and Carrie Brownstein (Portlandia, Sleater-Kinney) in a mischievous, metafictional and frequently laugh-out-loud funny account of banding together to make a documentary about St. Vincent's music, touring life and on-stage persona.
A Symphony Of Noise: Matthew Herbert taking the viewer on a dazzling journey with Matthew Herbert, the revolutionary British musician and composer. We explore the mind of an artist known for his political pieces, and a passion to create music derived from real life sounds combined with politically sensitive issues.
Love Yourself Today: Damien Dempsey, focusing on the music of acclaimed Irish singer-songwriter, this documentary also turns the lens in the direction of his legendarily committed fans. Dempsey's music often reflects his fans' pain, alleviates their anguish and ultimately provides peace as they "sing all their cares away". Every Christmas in Dublin, the crowds gather for Damo's Christmas gig at Vicar Street: it is a cathartic ritual, and a place where complex emotions can be laid bare.
EDINBURGH CINEMA LISTINGS
Friday, 5 November, Cameo Picturehouse, 6:00PM
The Nowhere Inn - St. Vincent
Monday 8 November, Cameo Picturehouse, 8.30PM
Lydia Lunch - The War Is Never Over

Thursday 11 November, Cameo Picturehouse, 6:00PM
A Symphony Of Noise - Matthew Herbert

UK PREMIERES ONLINE FOR UK-WIDE AUDIENCES
Streaming On-Demand from 7 - 14 November
Marie Davidson & L'Œil Nu - Renegade Breakdown Live
Áine Tyrrell - Irish Troubadour
Talking Like Her - Connie Converse
Rez Metal
Mimaroglu: The Robinson of Manhattan Island
The Remedy - A Hip Hop Documentary
My Name is Lopez
Marseille, Rap Capital
The Reverend
Living with Imperfection - Ran Blake
Blang: 16 Years of Outsider Music
Leftover Feelings: A Studio B Revival
The Nodey Process