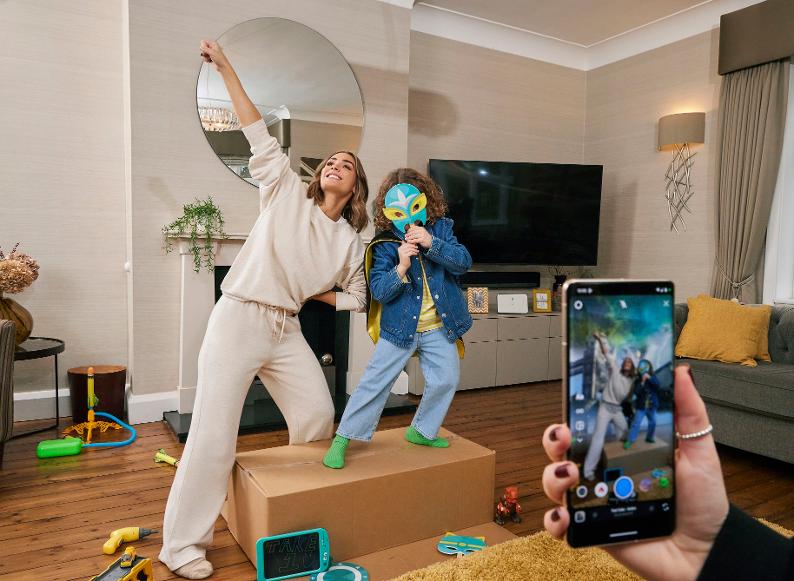 EE INSPIRES NEXT GENERATION OF FILM STARS WITH INNOVATIVE AUGMENTED REALITY FILM SETS DESIGNED TO TRANSFORM AT HOME PERFORMANCES
Ahead of the EE BAFTA Film Awards 2023, EE Mini Movie Makers allows families to transform their living rooms into augmented reality film sets, taking children's imaginary living room performances to the next level
To launch EE Mini Movie Makers, TV presenter and author Frankie Bridge tried out the action film set with her seven-year-old son Carter, transporting them to a superhero battle over the skies of London connected by EE Full Fibre broadband
Families are invited to enter their Mini Movies into a competition, with the winning family joining Frankie on the EE BAFTA Film Awards red carpet to meet the stars
This follows a new survey from EE* in which over three-quarters of parents (79%) confirmed their children have performed for them at home in the past
The four enchanting Mini Movie Makers AR film sets transport children to the worlds of superheroes, dinosaurs, shooting stars and unicorns ee.co.uk/minimoviemakers
EE has launched EE Mini Movie Makers, a set of downloadable tools that use innovative AR technology coupled with AI content creation to transform children's imaginary living room performances. Launching ahead of the 2023 EE BAFTA Film Awards – one of the biggest nights in the global cultural calendar - EE's Mini Movie Makers is designed to inspire the next generation of performers and filmmakers.

EE Mini Movie Makers launches with a competition that will see the winning children and their family invited to meet the stars on the EE BAFTA Film Awards Red Carpet with EE hoping to inspire budding British actors and filmmakers. This follows a new survey* from EE that revealed over three quarters (79%) of children in the UK have performed at home for their parents, while more than eight in ten (83%) parents agreed that technology was beneficial for their children's imagination. When asked about the things that spark their children's imagination, more parents answered 'creating their own at home performances' than anything else.

Launched with the help of TV presenter and author Frankie Bridge, who tested the tools out using the new Google Pixel 7 Pro with her seven-year-old son Carter over EE Full Fibre Broadband, Mini Movie Makers features four 360-degree augmented reality film sets, which are hosted on Instagram.

The design of the film sets leveraged artificial intelligence generation tools and was inspired by real world set design, as well as by the use of technology in animated kids' films:
Action
: children are transported to the climax of their favourite superhero film, with heroes, villains and flying cars darting past their eyes in front of London's most iconic landmarks, including the home of this year's EE BAFTA Film Awards, the Royal Festival Hall
Fantasy
: families can look on in awe as their kids explore an enchanting fantasy world, making friends with some nearby unicorns, fairies and magical wildlife
Jurassic
: watch as your children take a step into the age of the dinosaurs, meeting a Triceratops and some of its friendly dino pals along the way
Science Fiction
: give your children the chance to embark on an expedition to the most mysterious corners of our universe, featuring shooting stars, comets and spaceships The new survey also revealed the most popular imaginary settings to spark children's imaginations which inspired the four AR film sets. Families are invited to make their Mini Movies at home and enter into a competition, live from Tuesday 31st January to Wednesday 9th February 2023, with the most creative entries picked by a panel of experts, including BAFTA's Head of Children & Young People's Programme, Lisa Prime, BAFTA nominated producer, Hester Ruoff (
Boiling Point
) and art director, Kat Law (
Breathe
). The winning family will be invited to join Frankie Bridge and EE on the Red Carpet of the EE BAFTA Film Awards on Sunday 19th February in London, and meet the stars as they arrive at the Ceremony. As well as the four AR film sets, families can take advantage of the EE Mini Movie Makers prop templates, which can be downloaded, printed and easily made at home. Mini Movie Makers also features best advice videos from BAFTA nominated
The Secret
and
Hollyoaks
actor Glen Wallace and costume designer Michelle May, not to mention scene starters and script inspiration for children. All of this has been designed to inspire families and give them the tools to be more creative at home.
Frankie Bridge, TV Presenter and Author said:
" Whether it's pretending to be an astronaut in space, a Jurassic explorer or a superhero saving the world, our children so often escape reality to tell their own imagined stories, and I've definitely had to sit through some interesting ones in the past! That's why EE Mini Movie Makers is such a great initiative…it gives families the tools to be a little more creative at home and elevate those performances. Carter and I had so much fun trying this out, especially the Action AR film set which he absolutely loved! I can't wait to see the winning Mini Movie and am so excited to meet the winning family at the EE BAFTA Film Awards in February as EE's Red Carpet host. "