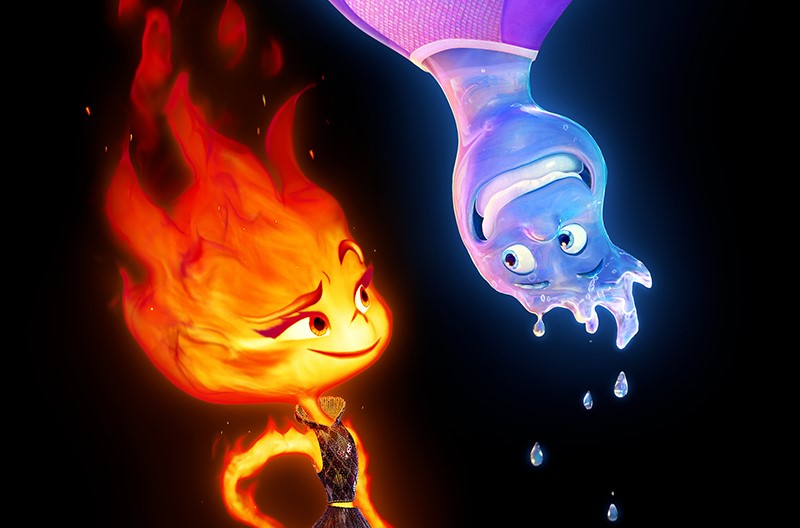 Review (07/07/23 Scott Mc Cutcheon)
Disney have been having a rough old time with it both at the box office and the poor critical reaction to a number of its tent pole releases over the last few years. Lucasfilm, Marvel and Pixar don't at the moment look like the cash cow that they once were.
The pandemic hasn't been kind to Pixar with a number of its films going straight to the streaming platform Disney+. The one film that did end up in cinemas, Lightyear (2022), was hardly a return to form.
Sadly it's hard to see Elemental breaking that losing streak. Whilst it might be ideal for small kids it certainly doesn't have the universal appeal that the likes of Toy Story (1995) Up (2009) and many of their other films had.
The story focuses on two Elemental's who both live in Element City. Ember (voiced by Leah Lewis) is fire, a fiery teenager who lives with her shopkeeper parents in the district of Element City called Fire Town.
Left to look after the shop one day in a fit of temper she bursts the water pipes and water, which contains a water person called Wade Ripple (Mamoudou Athie), comes flooding into the basement.
The pair at first don't hit it off but gradually grow closer much to the disgust of their respective parents. Needless to say the story is a very predictable and even the youngest in the audience will have guessed the ending long before the films conclusion.
Elemental is basically about how we are all different on the outside but inside we are all the same, a good moral bashing from Disney is becoming something of a constant throughout their films at the moment.
Elemental might keep young ones happy during the school summer holidays but, unlike Toy Story, it's hardly a classic we'll be talking about in 20 years' time.
Elemental

Director: Peter Sohn
Cast: Mamoudou Athie, Leah Lewis

UK/US release: Cinemas 7th July 2023