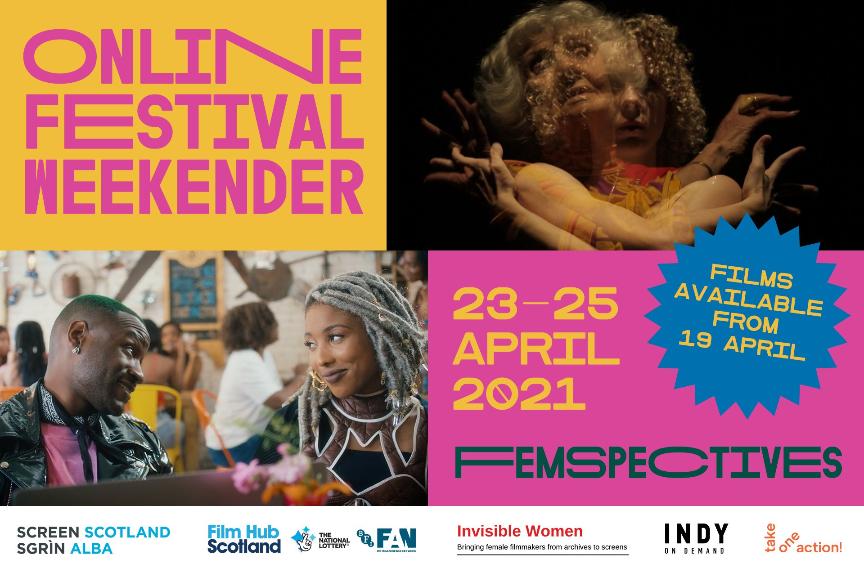 Femspectives - the Glasgow-based feminist film festival - has announced the full programme for its Online Festival Weekender, running digitally from 23 to 25 April.
Alongside a programme of international features and shorts, the festival will host a range of live discussions and a special Feminist Film Quiz.
Highlights across the festival include:
Comets - Tamar Shavgulidze's tender drama about the complexities of love, coupled with a dose of sci-fi. As teenagers, Nana and Irina were inseparable. After 30 years apart and leading lives that could not have been more different, the two women come face to face with each other and the realisation of what could have been. Join the Femspectives team for a live discussion from 7.30pm on Fri 23 April.
The Euphoria of Being - Éva Fahidi is 20 when she returns from Auschwitz to the realisation that she has lost all 49 members of her family, including her parents and sister. 70 years later, director Réka Szabó's fascination with Éva's story leads her to the provocation of creating a performance piece with renowned young dancer Emese Cuhorka. Together the three develop an intimate intergenerational friendship through sharing stories, creating and being in space together. Join the Femspectives team for a live discussion from 7.30pm on Sat 24 April. Showing with the short film, Affirmation #6, - a short poetic performance piece in British Sign Language reflecting on themes of climate change within systems of oppression. Set in Glasgow, it draws inspiration from the upcoming COP26 conference.
The Otherside of The Underneath - a rare screening of Jane Arden's groundbreaking 1972 feature. An adaptation of Arden's work with the women's theatre group, The Holocaust, the film is a harrowing deep-dive into the female psyche, schizophrenia and sexual guilt. Blurring the lines between reality and imagination, the film combines scenes of group psychotherapy sessions with nightmarish fantasies. On Sat 24 April at 4.30pm, join Rachel Pronger and Camille Baier from Invisible Women for a discussion about Arden's work and the role of feminist film archives.
Our People Will Be Healed - legendary Canadian documentary maker Alanis Ombomsawin's 50th film delves deep into the power and possibilities of education. Through testimony of teachers and students at The Helen Betty Osborne Ininiw Education Resource Centre Ombosawin provides a glimpse into how a Cree community in Manitoba is actively decolonizing their curriculum and school practices. A hopeful and reflective piece rooted in Indigenous knowledge and care. On Sat 24 April at 6pm join a range of guest speakers for a discussion about the film and the role of education for the future, in association with Take One Action! Film Festivals.
one dream, one square meter - a shorts strand guest-curated by Glasgow-based Ane Lopez, whose background ranges across curation, design, marketing and film production. The programme showcases three quasi-mythical hybrid documentaries - Urpean Lurra (Land Underwater); Antes Do Lembrar (Stone Engravings And The Three‑colored Chickenpox Tale) ; Black Line - which offer a shift of concentration through ripples in time, investigating a different type of cinematic activism that serves both as a tool for resisting collective oblivion and a way of reminding us of the ecological entanglements between the human and non-human. On Sun 25 April at 6pm join Ane for a discussion on her programme.
Dreaming While Black - a shorts strand guest-curated by Edinburgh-based interdisciplinary artist and cultural practitioner Tanatsei Gambura. The four films selected by Tanatsei - What Did You Dream,When I Grow Up I Want to be a Black Man,Émergence and Black Lady Goddess- are diverse, subversive, experimental, imaginative, and historical in nature. They speak to critical issues about the Black experience, pivoting around the notion that the future can only be dreamt into existence and collectively beg the questions: how do geopolitics influence different experiences of Blackness? Where and how is Blackness gendered? Can Blackness imagine communal spaces that transcend the violence produced by Western epistemologies? Should Blackness collaborate with, or resist institutions? What is the role of technology and new media in harnessing, erasing, fostering and dividing the collective Black experience? On Sun 25 April at 4.30pm join Tanatsei for a discussion on her programme.
Feminist Film Quiz - Do you know your Agnès Varda from your Cheryl Dunye? Can you recognise a film just by seeing a few seconds of its trailer? Can you quote Daughters of the Dust by heart? Even if you answered no to all these questions, come and join our Feminist Film Quiz on Sun 25 April at 7.30pm - a fun social event to close out the third edition of Femspectives. There are no teams. Everybody participates as an individual. And yes- there will be prizes.
All films are screened with English captions.
Celebrating the announcement of this year's programme, Femspectives Founders Lauren Clarke and Kathi Kamleitner said:
"We are excited to be delivering this year's festival entirely online. Not only does it open our events to people all over Scotland and around the UK, we are also able to invite guests from further afield. The pandemic has shown that now more than ever, people long for engaging conversations to stay connected with each other and with what is happening in the world. After the successful launch of an online film club during the first UK lockdown, the Online Festival Weekender presents a great way to keep delivering opportunities for these kinds of encounters.
One of our highlights in this year's programme is definitely revisiting Jane Arden's film The Otherside of The Underneath, which was the first film we ever screened at a Femspectives event. Not only will be be talking about feminist film archives, but looking back will also give us a chance to envision the future of the festival. Apart from that, we are particularly looking forward to see the work of our two guest curators and the discussions they are going to facilitate. It's great to see the festival team expand and hear more voices throughout the programme."
Ticketing and Access Details
All films are available to stream on-demand from 19 April. Tickets are available to preorder from today at www.femspectives.com , priced at a pay-what-you-can sliding scale from £8 - £0. Once accessed by the buyer, films are available to view for 72 hours.
All discussions happen from 23-25 April via Zoom. Discussions are free, but registration is required via Eventbrite . All discussions will be live-captioned.