Glasgow Film Festival Announces 2023 Programme
From 1st March to 12th March, Glasgow Film Festival will host 6 World premieres, 16 European premieres, 70 UK premieres, and 6 Scottish premieres.
The 19th edition of the annual festival will open with the UK premiere of Adura Onashile's Glasgow-shot feature debut Girl and closes with the UK premiere of Nida Manzoor's action comedy Polite Society

Glasgow Film Festival (GFF) has announced its full programme for its 19th annual edition.
From 1 - 12 March, the festival will host over 250 screenings and events at Glasgow Film Theatre (GFT) and other venues across the city.
The festival will open with the UK premiere of Glasgow writer-directorAdura Onashile's feature film debut Girl. Grace (Déborah Lukumuena) and her 11-year-old daughter Ama (Le'Shantey Bonsu) are trying to build a new life in Glasgow, a city where everything feels strange and hostile. Traumatised by her past, Grace just wants to keep her daughter safe from harm. Ama is told to trust nobody. When Ama makes friends with a classmate, it only adds to Grace's anxiety and fear that their special bond is under threat. This atmospheric and poignant tale of what it takes to escape the legacy of violence and trust in the future marks Glasgow-based writer-director Onashile as an exciting new voice in Scottish cinema. With the Opening Gala completely sold out, an extra screening has been added on Thursday 2 March due to phenomenal demand.
GFF23 will close on 12 March with the UK premiere ofWe Are Lady Parts creatorNida Manzoor's feature debut Polite Society. Following terrific buzz at Sundance Film Festival 2023, this riotous action-comedy will provide the perfect ending to the 2023 Festival, filled with hi-jinks, high kicks and some Bollywood style razzle-dazzle. British Pakistani schoolgirl Ria ( Priya Kansara) is an expert martial arts fighter and dreams of a career as a stuntwoman. Her big sister Lena ( Ritu Arya) has dropped out of art school and is drifting in limbo until a whirlwind romance threatens to carry her off. What is the possible appeal of handsome, sensitive, wealthy, geneticist Salim ( Akshay Khanna)? Now Lena is abandoning all her dreams to become his wife and move to Singapore. Something doesn't add up and a distraught Ria is determined to uncover the truth. Is plotting to kidnap Lena from her own wedding a step too far? Fast-paced, funny and brimming with eye-popping Crouching Tiger-like fights, Polite Society is played to the hilt by a fantastic cast. Priya Kansara is a force of nature as Ria but may just have met her match in Nimra Bucha's formidable matriarch, a woman who will let nothing stand in the way of her son's nuptials. Let battle commence!
Emily Hampshire's new romcom The End Of Sex premieres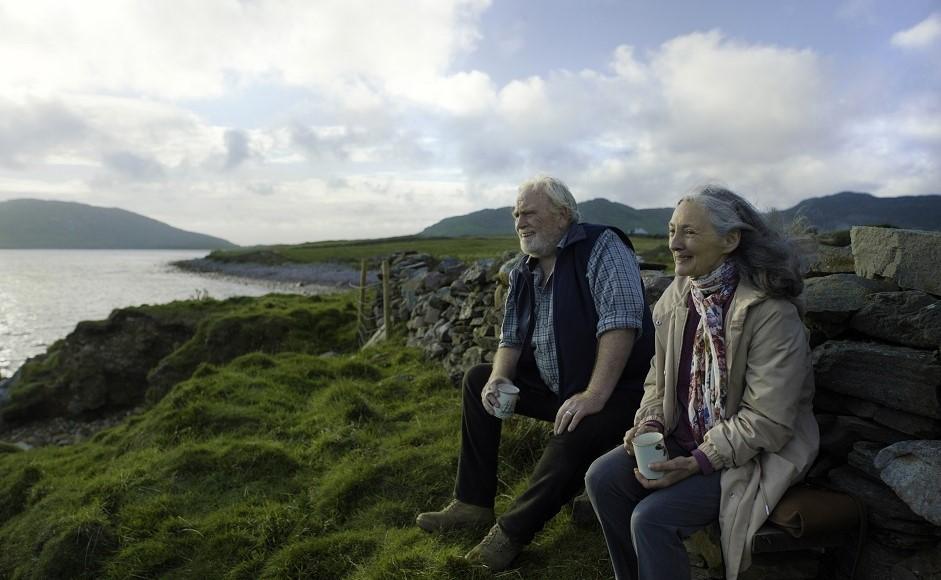 James Cosmo stars in My Sailor, My Love

World and European Premieres
GFF23 boasts 22 World, International and European premieres.
World premiere highlights include I Am Weekender, Chloé Raunet's exploration of Wiz's controversial and banned 1992 film about the UK acid house scene, featuring a host of talking heads including Bobby Gillespie and Irvine Welsh who says 'without Weekender there would have been no Trainspotting'; the return of 'the Springburn Scorsese' James Price with Dog Days, a big-hearted look at a musically gifted homeless Dundee man (played by Neds star Conor McCarron) trying to turn his life around; Scottish film curator Jo Reid using archive footage to explore how women used the bicycle as a means to emancipation, inThe Freedom Machine; andStuart Cosgrove's book tracing Muhammed Ali from confident teenager to heavyweight champion getting the big screen treatment in feature documentary Cassius X: Becoming Ali, featuring stunning archive footage and comment from those who knew him including girlfriendDee Dee Sharp and Malcolm X's daughter Attallah Shabazz.
European and International premieres include Schitt's Creek andThe Rig star Emily Hampshire's new romcom The End of Sex, written by and co-starring GFF favourite Jonas Chernick (Ashgrove, James vs His Future Self); Mister Organ, the latest jaw-dropping documentary from Tickled director David Farrier following his three-year entanglement with 'New Zealand's most annoying man'; Oklahoma auteur Mickey Reece's new black and white Lynchian odyssey about country music, legacy and cryogenicsCountry Gold; and Therapy Dogs, an incredible feat of guerilla filmmaking by US teenager Ethan Eng as he documents his last year at high school that blurs the line between fact and fiction to joyfully chaotic ends.
There's a double dose of Jena Malone as she stars in two European premieres, as a young woman investigating the mysterious death of her priest brother at a convent on the Isle of Skye in Christopher Smith's chiller Consecration; and as a single, unemployed drifter who seeks to re-set her life by being adopted in Adopting Audrey.
UK Premieres
GFF23 will offer UK audiences the first chance to see 70 new feature films. In a special International Women's Day Gala UK premiere,Kelly Macdonald and Monica Dolan star inCarol Morley's fantastical road movie Typist Artist Pirate King, telling the story of real-life outsider artist Audrey Amiss whose extraordinary body of work was only discovered after her death. Other highlights includePaul Mescal and Emily Watson in God's Creatures, set in a close-knit Irish community ripped apart by allegations of sexual assault; Nicolas Cage as a seasoned buffalo hunter inGabe Polsky's vividly-realised Western Butcher's Crossing;It's Always Sunny in Philadelphia starGlenn Howerton and How To Train Your Dragon's Jay Baruchel in Blackberry, the story of the spectacular rise and fall of a tech giant; Margaret Qualley and Christopher Abbott displaying electrifying chemistry as a dominatrix and her longtime client in Zach Wigon's twisty thrillerSanctuary; Benedetta starVirginie Efira shining inRebecca Zolotowski's beguiling melodramaOther People's Children;A Cooler Climate, where 94-year-old filmmaker James Ivory revisits the footage he took during a nine-month trip to Afghanistan in the 1960s, revealing a lost paradise before decades of invasion and destruction; Glasgow artist Stephen Skrynka and his decades long ambition to create his very own Wall of Death in a listed warehouse on the Clyde in The Artist and the Wall of Death; Scottish favourite James Cosmo as a stubborn and reclusive widower who finds he may just give love a final chance inMy Sailor, My Love and mockumentary Band, which deftly blurs the lines between fact and fictitious fun as it charts bandmates Álfrún, Saga and Hrefna giving themselves one year to make it big.
Audiences all across the UK will get a chance to enjoy two Glasgow Film Festival UK premieres, as Danial Goldhaber's explosive climate crisis activism thrillerHow to Blow Up a Pipeline andLéa Mysius's elegantly intriguing French family drama The Five Devils screen at both GFT and cinemas in Belfast, London, Manchester, Edinburgh, Bristol, Cardiff and more.
Adapting Audrey receives its European premiere

Typist Artist Pirate King receives its UK premiere
Scottish Premieres
GFF23 will showcase two new documentaries by prodigious Scotland-based polymath Mark Cousins, with the Scottish premiere of The March on Rome, using archive footage to examine the roots of European fascism, and the UK premiere of the impish and insightful My Name is Alfred Hitchcock, which sees the legendary and notorious director rewatch his own films and question how they stand up in today's society, courtesy of a pitch-perfect Hitchcock voiceover by impressionist Alistair McGowan.
Other Scottish premieres at the festival include Glasgow director Andrew Cumming's buzzworthy debut feature The Origin, an innovative horror set in the Stone Age and shot during the pandemic in the Scottish Highlands; Blind Willow, Sleeping Woman, an elegant adaptation of short stories by the great Haruki Murakami from composer-turned-director Pierre Földes;Mia Hansen-Løve's deeply personal new film One Fine Morning, inspired by the death of her father and featuring a luminous central performance from Léa Seydoux; Ellie Foumbi's raw and intense debut feature Our Father, the Devil, a psychological thriller about an African immigrant's quiet life in small-town France upended by the arrival of a charismatic Catholic priest; and Raine Allen Miller's joyful romcom Rye Lane, following two 20-something Londoners as they embark on an impulsive day of mayhem in the city.
Audience Award, Sponsored by Belhaven Brewery
The only award handed out at Glasgow Film Festival is given to an outstanding feature film by a first or second time director, and is chosen by our most important people – our audience. Sponsored by Belhaven Brewery, Scotland's Oldest Working Brewery, the shortlist for the GFF23 Audience Award includes Alauda Ruiz de Azúa's sweeping Spanish debut feature Lullaby, an authentic portrayal of motherhood and sacrifice; Chandler Levack's I Like Movies, a semi-autobiographical tale of a hyper-ambitious but socially inept teenage cinephile who gets a job at his local video store;Marianne Blicher's multi-award winning Miss Viborg exploring love, loss, friendship and new hope; Robert Higgins and Patrick McGivney's unpicking of macho culture and vulnerability in Irish football inLakelands featuring rising star Éanna Hardwicke (Normal People, Vivarium ); Sophie Linnenbaum's inventive social satire The Ordinaries set in a parallel cinematic world where everyone is divided into three classes - Main Characters, Extras and Outtakes (the lowest of the low); Andrea Bagney's Spanish comedy Ramona whose titular character is hoping for a fresh start yet torn between head, heart, ambition and fidelity; actor and filmmaker Anthony Shim with his TIFF Platform Prize-winning drama about a Korean single mother trying to raise her son in 1990s suburban Canada,Riceboy Sleeps; Welby Ings' Punch, starring Tim Roth as the alcoholic father of a young New Zealand boxer who is developing a friendship with a gay Māori teen; director and star Nicolas Giraud's The Astronaut following a man determined to build his own rocket and pilot in into space; and Student Oscar Winner Alex Schaad's Skin Deep, a provocative body-swap film exploring identity, gender fluidity, sexuality and the pursuit of happiness.
Scottish Talent
Alongside My Old School, by Scottish director Jono McLeod, GFF22 is thrilled to showcase a range of Scottish talent both behind and in front of the camera. GFF favouriteRobbie Fraser (Final Ascent, Pictures From Afghanistan) reunites with legendary Scottish war photographer David Pratt in the World premiere of Pictures From Iraq, a fascinating, highly personal journey into the recent history of a war-torn land.
Young Glasgow-based filmmaker Paul Morris presents the World premiere of his micro-budget Hamilton-filmed debut feature, Angry Young Men, a riotous comedy following local young gang, 'The Bramble Boys', defending their home turf against rivals. There's the first big screen outing for Lizzie MacKenzie's documentary, The Hermit of Treig, a warm and heartfelt portrait of her friend, Ken Smith, who has spent the last four decades living off-grid in a log cabin near Loch Treig, 'the lonely loch'. Scottish director Ruth Paxton makes her long-anticipated feature debut with A Banquet, combining family psychodrama with an apocalyptic nightmare as a new widow tries to raise her teenage daughters alone. Martyn Robertson's thrillingly shot documentary Ride the Wave chronicles the 14-year-old Scottish surfing champion, Ben Larg, as he prepares to surf the one of the biggest and coldest waves on Earth, around County Sligo. Filmed in Scotland and starring a Scottish cast, Nobody Has to Know, directed by Bouli Lanners, is a touching romance that follows a stroke patient (Lanners) as he exiles himself to a remote Scottish island with amnesia. Can his ex, played by Michelle Fairley (Game of Thrones), help him piece together his memory and the secret relationship they had together?
Synopsis: A merry mash up of sisterly affection, parental disappointment and bold action, POLITE SOCIETY follows martial artist-in-training Ria Khan who believes she must save her older sister Lena from her impending marriage. After enlisting the help of her friends, Ria attempts to pull off the most ambitious of all wedding heists in the name of independence and sisterhood.

2023 Country Focus : Viva el cine español!
GFF23 celebrates vitality with its 2023 Country Focus: Viva el cine español! showcasing a collection of eight contemporary films from Spain. Following success at Cannes Film Festival, Rodrigo Sorogoyen's The Beasts will make its UK Premiere. Antoine (Denis Ménochet) and Olga (Marina Foïs) hanker for the land and plan to live at one with nature before psychological warfare bubbles in this gripping thriller. Themes of family, motherhood and solidarity emerge in La Maternal and Lullaby . Questions on the price of romance surface in The Water and Ramona. Continuing on the wave of sacrifice is melodrama Wild Flowers that draws a portrait of young single mother, Julia (Anna Castillo) navigating love, drive and stability. Juan Diego Botto's On The Fringe weaves three stories into a reflection on the human casualties of economic chaos, starring the brilliant Penélope Cruz. Finally, Spain is beginning to emerge from the shadows of the Franco dictatorship in agonising, justice-driven drama, Prison 77, based on true events.
Retrospectives
GFF is the film festival for audiences and nothing reflects this more than the wildly popular free morning retrospectives. For 2023, In the Driving Seat offers a time capsule to a different era on the big screen. These screenings are free to attend and will feature women taking charge of their lives, setting off into the unknown, seeking adventure, freedom and self-discovery. Titles includeBonnie and Clyde, It Happened One Night,Julia, Pierrot Le Fou, The Sugarland Express,Thelma & Louise and Vagabond. Roman Holiday will also celebrate its 70th anniversary with a new 4K restoration. Each free retrospective is given a special introduction by Festival Co-Director Allan Hunter where he shares anecdotes and filmmaking insights related to that day's screening, unsurprisingly a firm favourite among GFF audiences. The 2023 selection of free retrospectives will conclude with Widows and thus Festival Co-Director Allan Hunter's final film introduction at the festival. GFF23 will sadly be the final edition for Allan following 17 successful years in the role.
GFF23 will also shine a light on the documentaries of a Hollywood legend with Looking for America: The Films of Lee Grant. An Oscar-winning actor in Shampoo, The Heat of the Night and more, Grant turned her talents to documentary-making in the 1980s creating an extraordinary body of work that gave a unique insight into the female experience. Battered presents an exploration of men's violence against women; When Women Kill evokes questions around justice, inequality and rehabilitation as it unveils seven women's stories who were serving sentences for murder and manslaughter in the early 1980s; The Willmar 8 presents a cogent account of women fighting an institution on the Gender Pay Gap; What Sex Am I? Is marked by the attitudes and ignorance of the time but provides an authentic account of trans lives, giving visibility to those seeking ways to be true to themselves. Down and Out in America, displaying a poignant portrait of farming and unemployment in Reagan's America, won the Oscar for Best Documentary and will also be screened at the festival.
GFF23's programme will also include Gloria Grahame: Just Drawn That Way presenting the Academy Award-winning talent's work spanning the 1950s. Titles include the magnificent melodrama and Oscar-winning The Bad and The Beautiful; atmospheric thrillers Odds Against Tomorrow and In a Lonely Place; and the epitome of film noir brutality in The Big Heat and Human Desire.
Special Events
Movie milestones celebrated with special screenings at this year's festival include the 60th anniversary of Alfred Hitchcock's The Birds and the 30th anniversary of Michael Myers' cult classic So I Married an Axe Murderer. A Song In Three Parts is a programme of shorts and features focusing on Black physical and mental health across the World, from a pregnant farmer in rural Ethiopia to a young New Jersey man living wit depression. To coincide with the screening of Matt Johnson's latest film  Blackberry, GFF revisits his award-winning thriller The Dirties, which celebrates its 10th anniversary this year, as does Jonathan Glazer's otherworldly modern classic Under The Skin, which gets a special festival screening accompanied with a live performance of Mica Levi's BAFTA-nominated score by the BBC Scottish Symphony Orchestra, conducted by Jonathan Berman with soundscape by Sound Intermedia. An extra performance of this event on 4 March.
Allison Gardner , Co-Director of GFF, said:
"I'm always so excited to share the hard work of the team here at Glasgow Film and let our audiences and film colleagues across the UK and beyond know about the great range of films we have on offer. I'm delighted that audiences across the country can watchHow To Blow Up a Pipeline and The Five Devils at our partner venues. We can't wait for UK audiences to be the first to see films such as My Name is Alfred Hitchcock, with a 60th anniversary screening of The Birds on the first Sunday, Sanctuary and some fabulous Icelandic films, Driving Mum,A Letter from Helga and Band. Whilst I will sorely miss my co-director Allan as this is his last year, I think he would agree that this programme is a fabulous testament to the power of cinema."
Tickets can be purchased in person within normal GFT Box Office opening hours: Friday and Sunday to Thursday from 30 minutes before that day's first screening, until 15 minutes after the last performance starts. Saturday from 11am to 15 minutes after the last performance starts.
Online booking closes 15 minutes before the advertised start time of each film. All performances will start at the advertised start time with no adverts or trailers. Late ticket-holders will not be admitted.
During the festival, tickets can also be bought in person (2-12 March) at the GFF Pop-Up Box Office located at Edward House, 199 Sauchiehall St, Glasgow G2 3EX.
Box Office Opening Times: 2-11 March 12:00-20:00, 12 March 12:00-16:00
online at www.glasgowfilm.org/festival