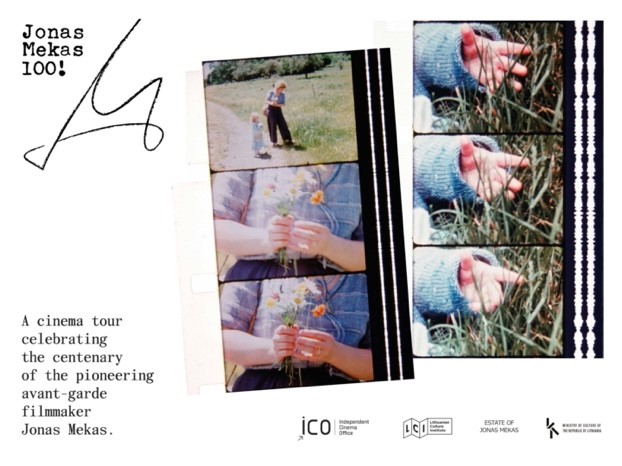 THE CENTENARY OF PIONEERING AVANT-GARDE FILMMAKER JONAS MEKAS CELEBRATED WITH A UK CINEMA TOUR
Reminiscences of a Journey to Lithuania (87 mins)
Reminiscences of a Journey to Lithuania is preceded by a video from Mekas' 365 Days Project, in which he released one video on each day of 2007 on his website. The video from February 21 is a comment on Britney Spears, shown in the newspaper days after she shaved her head. Mekas says, "They say she's about to go through a nervous breakdown… Nervous breakdowns are very necessary! The artists that don't go through nervous breakdowns: I don't trust them."

As I Was Moving Ahead Occasionally I Saw Brief Glimpses of Beauty (289 mins plus intermission)
This epic diary film is structured into twelve chapters, each introduced by Mekas' wry and self-reflexive commentary. We are proud to present the film in a brand new digital restoration by RE:VOIR with support from the Lithuanian Film Center, preceded by Wien & Mozart, Jonas Mekas' creative trailer commissioned for the 2001 Vienna International Film Festival.
Out-Takes from the Life of a Happy Man (88 mins)
Out-Takes from the Life of a Happy Man is preceded by Self-Portrait, Mekas' first work made with a video camera in 1980. Shot at 1:45PM on a sunny afternoon in front of curator Sally Dixon's house in St. Paul, Minnesota, the twenty-minute video is a masterclass in liveness, spontaneity and improvisation.

The New American Cinema and After (70 mins)
To complement the four programs of Jonas Mekas' films in this series, this programme contextualises his own filmmaking through works by filmmakers who were his peers or who worked as a result of his influence and history.
Jonas Mekas: Short Films & Videos 1966–2017 (78 mins)
This programme presents a curated selection of Jonas Mekas' short-form works made across a fifty-one-year period, showcasing the remarkable breadth of cinematic forms that he worked in over the decades.