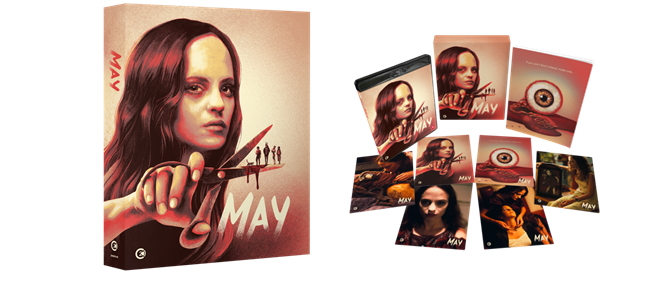 Make a date with May – for an unforgettable, uncomfortable, weird and wild experience. Lucky McKee's wickedly wry body horror featuring outstanding performances, stunning cinematography and a stellar soundtrack, is back for a new release this July. Second Sight Films has it all sewn up with a brand-new Limited Edition and Standard Edition Blu-ray version, both complete with a fantastic slew of special features.
Meet May Dove Candy, the socially awkward veterinary assistant, who was bullied as a child for her lazy eye and has developed an obsession with perfection. Desperate for connection, May struggles to make friends and is desperately searching for a perfect boyfriend.
Then she meets Adam, the boy with the flawless hands… could he be the one? But the path of love never runs smoothly, especially with May's inability to connect with people. As her dream of perfection unravels, she becomes increasingly detached from reality and descends into the depths of depravity.
The brand-new Limited Edition is set for release on 24 July and is presented in a stunning box with new artwork by Bella Grace, alongside a 70 page book, with new essays. Both editions come complete with a host of brilliant extras including new audio commentaries and new interviews with the stars, director, composer and editors and much more, see full details below.
Don't miss May Limited Edition, a devilish delight that's a cut above the reast.
Special Features
New audio commentary with Alexandra Heller-Nicholas
Audio commentary with director Lucky McKee, cinematographer Steve Yedlin, editor Chris Sivertson and actors Angela Bettis, Nichole Hiltz, and Bret Roberts
Audio commentary with director Lucky McKee, Editor Rian Johnson, Composer Jammes Luckett (formerly credited as Jaye Barnes Luckett), production designer Leslie Keel, and Craft Services guy Benji
The Toymaker: a new interview with director Lucky McKee
Perfect Hands: a new interview with actor Jeremy Sisto
Blankety Blank: a new interview with actor James Duval
How to Execute a Murder: a new interview with cinematographer Steve Yedlin
Peeling Back the Layers: a new interview with editor Rian Johnson
Jack and Jill: a new interview with editor Chris Sivertson
In the Cut: a new interview with editor Kevin Ford
Blood, Gore and Rock 'n' Roll: a new interview with composer Jammes Luckett
From Frankenstein to May: Miranda Corcoran on May
Bits and Pieces: on the set of May
Limited Edition Contents
Rigid slipcase with new artwork by Bella Grace
70 page book with new essays by Joseph Dwyer, Rachel Knightley, Mary Beth McAndrews and Heather Wixson
Six collectors' art cards
Director:
Lucky McKee
Cast:
Angela Bettis, Jeremy Sisto, Anna Faris
UK Release:
24th July 2023