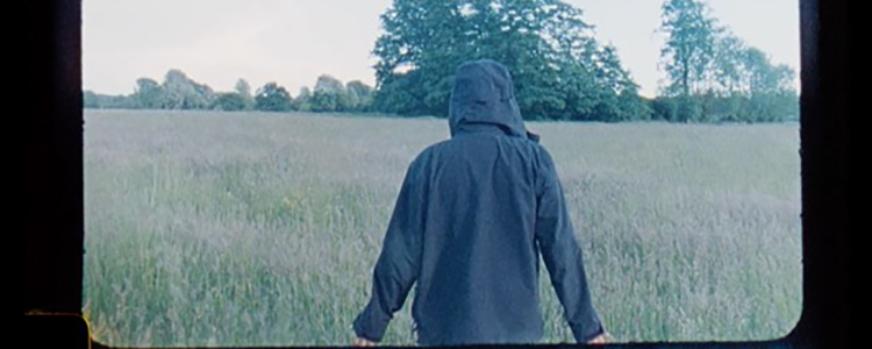 RIGHT OF WAY
'A new national touring film programme examining access and inclusion in the UK countryside' Featuring new film commissions by artists Ufuoma Essi, Dan Guthrie and Arjuna Neuman, plus curated programme of archive film
The Independent Cinema Office (ICO) and LUX, supported by the BFI Film Audience Network and Arts Council England (both awarding National Lottery funding), have to announced the launch of RIGHT OF WAY, a new touring film programme that explores and reflects on historical relationships with, and equity of access to, the UK countryside.
We're told we all have the right to roam in the countryside, but does that apply to everyone equally? RIGHT OF WAY is a new feature-length programme that mixes new artists' commissions with historical archive films to examine who has a right to the great outdoors and who is excluded.
This programme is inspired by the foundation of the UK's National Trails. Set up to resist sweeping industrialisation, these protected landscapes were created with a vision to 'connect people to the rural landscape'. But during the COVID-19 pandemic – as people realised the importance of open space for health and wellbeing – inequalities of access to nature were exposed, revealing the disconnect felt by millions of people towards the UK's rural spaces.
Featuring three newly-commissioned film works, Pastoral Malaise by Ufuoma Essi, black strangers by Dan Guthrie and Syncopated Green by Arjuna Neuman, RIGHT OF WAY challenges the enduring perception of the British rural idyll as an untouched and unchanging space where time stands still. The films cover themes ranging from the absence of Black, Asian and ethnically diverse people in the pastoral narrative, through to protest, trespassing, activism and raves.
Alongside the artist film commissions, RIGHT OF WAY presents a contextual, compilation programme of archive films, dating from the 1930s through to the 1980s which focuses specifically on the National Trails. The heritage of these long-distance paths is intrinsically tied to narratives of protest and access, being originally developed in response to demands for greater public access to the countryside in the face of industrialisation.
RIGHT OF WAY will launch on 20 September at Lewes Depot, a sustainability-focused independent cinema that sits near the South Downs Way, one of the National Trails captured in the programme. It will then play in cinemas, film festivals and community screens across the UK, supported by a programme of talks and panel discussions. RIGHT OF WAY will also be distributed outside of the UK by LUX.
The newly-commissioned artist film works are:
Black Strangers by Dan Guthrie
After seeing a mention of a man called 'Daniel' on a Bishop's Transcript held in Gloucestershire Archives, Dan goes for a walk in the woods in search of the man buried in Nympsfield in 1719 and described on the Transcript as 'a black stranger'. Whilst walking, Dan talks directly to Daniel, speculating about the parallels between him and his namesake, from potential walking routes to speeds and shoe sizes. As the film progresses, Dan opens up to Daniel about how he's been made to feel like a 'black stranger' in his hometown of Stroud after his involvement in a council-led review of streets, buildings, statues and monuments garnered national media attention and right-wing backlash for asking people's opinions on an object called the Black Boy Clock.
Pastoral Malaise by Ufuoma Essi
Pastoral Malaise is a short film about the absences within rural pastoral environments. These absences are often framed by romanticism and picturesque conventions, constructed as tourist sites and refuges in rural landscapes across Britain.
Syncopated Green by Arjuna Neuman
Syncopated Green reflects on the history of outdoor free parties in the English Countryside, using rave music, past and present, to help forget the 'official' portrayal of England as picturesque, nostalgic, white, and rural. The film invites rave music into the English landscape – turning imperial history inside out. Somewhere between a music video, a memoir and an essay, the film asks, how might our future be different if we had other histories to lean on - and dance with?
Catharine Des Forges, Director of the Independent Cinema Office, said "Right of Way started as a project that sought to explore the history and legacy of national trails in the South-East of England, through our work delivering Film Hub South East, part of the UK-wide BFI Film Audience Network. We were interested in who walked these trails and who walks them now and looking at how different communities engage with the land, especially post-COVID. In our previous work, one of the most exciting engagements we have had with audiences is where we bring together the present and the past, and bridge the gap between visual art and the independent cinema sector and so with the help of ACE, we have commissioned three brand new works from three of the UK's most exciting moving image artists to examine some of these themes. Right of Way will deliver challenging and diverse programming for audiences no matter where they live – whilst making a valuable contribution to the ongoing, important explorations of our historical relationships with, and contemporary equity of access to, the UK countryside"
The new films were commissioned by a selection panel including Sam Shiva (Land in our Names / Right to Roam), Onyeka Igwe (Artist Filmmaker), Jonathan Ali (Twelve30 Collective) and Qila Gill (Moving Image Producer & Film Programmer / Distribution Director at LUX)
Right of Way Touring Programme Launch: 20 September 2022, Depot, Lewes UK-wide screening tour: September 2022 -September 2023 Confirmed tour dates: here