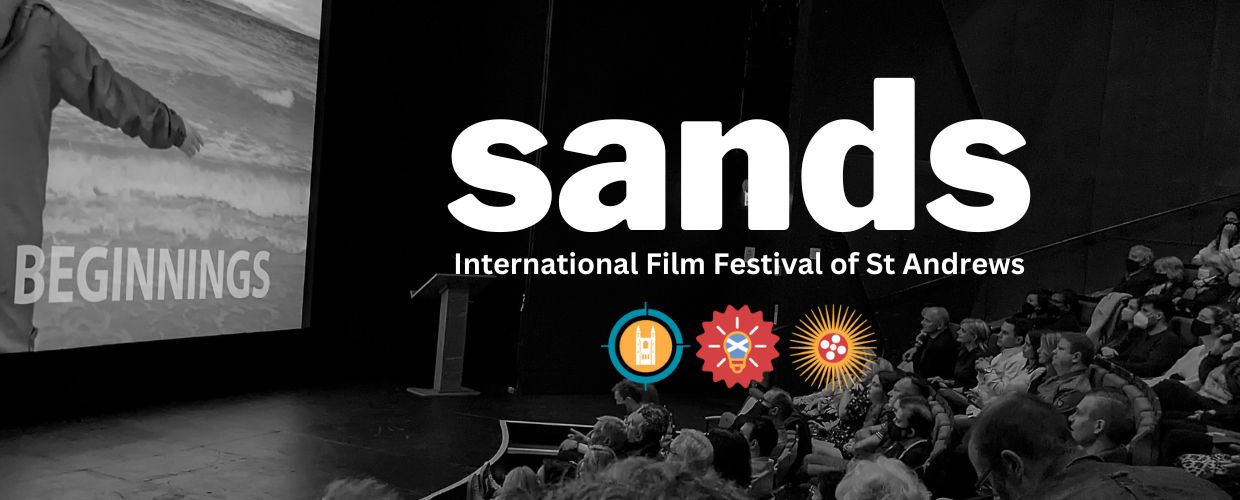 Sands: International Film Festival of St Andrews Returns for Second Edition
from 14 – 16 April 2023
Sands: International Film Festival of St Andrews has announced its second edition, boasting a bold and innovative programme that champions filmmakers, audiences and all those who cherish the power of cinema. Taking place from Friday 14 – Sunday 16 April, Ania Trzebiatowska, Festival Director, once again showcases a diverse selection of contemporary film, alongside a range of supporting activities such as industry talks and special events.
Last year's inaugural festival affirmed itself as not only a major new event in the Scottish cultural calendar, but as a potential key player in the world film festival circuit. Over the course of three days, filmmakers and audiences descended on the iconic Scottish town for an exciting array of film premieres and industry events that included a special talk with key festival supporter Joe Russo (co-director ofAvengers: Endgame and The Gray Man).
Joe Russo is confirmed to attend again this year. He is bringing an early sneak peek of a hotly anticipated project that he executive produced where audiences will only find out the title as the screening begins.
As well as offering advice to the next generation of filmmakers, Russo is hosting a public discussion on the importance of gaming when it comes to contemporary storytelling with Epic Games Chief Creative Officer, Donald Mustard, who has worked as a creator and director of major titles such as Fortnite, which is the #1 most played game in the world with over 236 million monthly players.
The festival also features an appearance, this year, by veteran casting-director Margery Simkin, who will be sharing her extensive experience in a special industry talk. Margery's credits include James Cameron's Avatar (2009), cult-classicLittle Shop of Horrors (1986), Avatar: The Way of Water (2022) and the original Top Gun (1986)
With deep roots in the University of St Andrews, Sands takes pride in its close ties with the University's prestigious Department of Film Studies and offers unique opportunities for students to connect with film festival curation and filmmaking talent operating at the highest levels. Moreover, the festival also seeks to fulfil a broader mission by bringing fresh and innovative cinema, including filmmakers from Scotland to audiences outside the University, residents from local communities and those of the surrounding areas.
Since its inception, the grounding philosophy of Sands has been to nurture new voices in filmmaking by showcasing their work and connecting them with the wider filmmaking community. This year, there are bespoke networking opportunities where talent from Scotland can make meaningful connections with established industry figures from all over the world.
The Byre Theatre is, once again, the producer of, and venue for the festival.
Sands provides a uniquely boutique experience for festivalgoers: in addition to the film and events programme, Sands offers audiences the chance to fully engross themselves in the town that unfailingly charms visitors from around the world.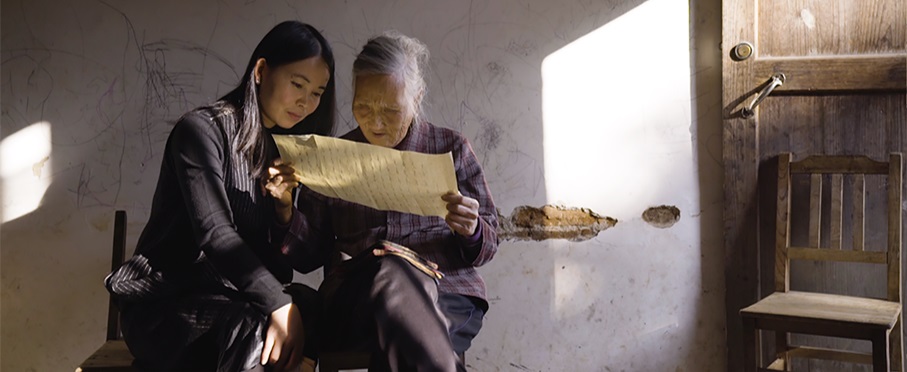 Hidden Letters Dir: Violet Du Feng, Qing Zhao (co-director), China, 89m, N/C 15

This year's programme offers a glimpse at some of the most exciting new films of the year, many of them fresh from making waves at festivals such as Sundance and Berlinale. The selection process involved students on the Film Studies course at the University of St Andrews, who, as part of the festival's commitment to nurturing new talent, have been mentored and encouraged by Ania Trzebiatowska to kick start their potential careers as film programmers.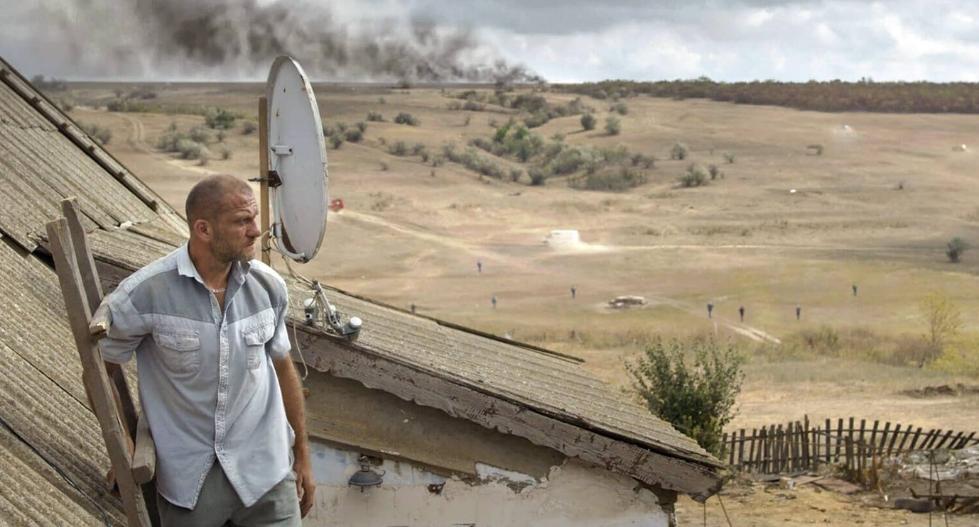 Klondike Dir: Maryna Er Gorbach, Ukraine/ Turkey, 100m ,N/C18

Klondike tells the story of a family living on the border of Russia and Ukraine, whose lives are upended when they find themselves at the centre of an international air crash catastrophe on July 17 2014. A timely and urgent piece of filmmaking that has since become Ukraine's official entry for the 95th Academy Awards in best International Feature Film
Documentary Calendar Girls challenges the outdated image of "the old lady" with an unlikely coming of age story revolving around Florida's most dedicated dance team for women over 60. A fascinating and emotional investigation into an ageless human need for creativity and friendship.
Beth de Araújo also celebrates their directorial debut with Soft and Quiet, a shocking horror-thriller that takes an incisive look at the subtle, but no less despicable forms that racism can take.
Signe Baumane's My Love Affair with Marriage is an animated feature created for an adult audience and a proud testament to independent filmmaking. The film is the result of seven years of painstaking work which was partly funded by the help of 1,685 individual donors as well as grants from arts and cultural institutions. The film follows Zelma, a woman hungry for love and acceptance who sets out on a 23-year quest for perfect love and lasting marriage.
Reinaldo Marcus Green's Monsters and Men tells the story the aftermath of a police killing of a black man, told through the eyes of the people who were there. A bystander who filmed the act, an African American police officer and a high-school baseballer who is inspired to take a stand.
Filmed over the course of 12 years, How to Save a Dead Friend is a personal cry from the heart, and a message from a silenced generation. A twisted love story between two young millennials set against the backdrop of the increasingly autocratic regime of the 'Depression Federation'.
A deeply impactful treatise on national identity from directors Violet Du-Feng and Qing Zhao, Hidden Letters follows two millennial Chinese women, connected by their fascination with the secret language of sisterhood and their desire to protect it. Violet is coming to St Andrews to talk about the film.
Parents and children alike are set to be charmed by the utterly adorable, Academy Award nominated Marcel the Shell with Shoes On. This screening, programmed especially with families in mind, is followed by a Q&A with the film's producer Paul Mezey.
Guests at Sands include Ita O'Brien, a British movement director and intimacy co-ordinator for film, TV and theatre who is participating in a panel discussion on Cultures of Care about inclusion, equality, and sustainability in the film industry.
Throwing fresh light on the talent behind the camera, Sands welcomes Ellen Mirojnick, an American costume designer. She is a frequent collaborator of actor Michael Douglas, having overseen the costume design for the films Fatal Attraction, Wall Street, Basic Instinct, A Perfect Murder, Wall Street: Money Never Sleeps and Behind the Candelabra.
Ania Trzebiatowska, Festival Director said : " I am absolutely thrilled to finally begin sharing the programme for the second annual Sands: International Film Festival of St Andrews.
Last year was an incredible experience for us and we continue to build on that, adding layers of depth and meaning to the connections we can make between audiences, films and film industry.
I am so pleased that we've found such a diverse range of excellent films to show and of the calibre of the very special guests we are bringing to St Andrews. I'm extremely excited that we'll all be together making meaningful connections very soon ."
Joe Russo, Key Festival Supporter said : " St Andrews is a town very close to my heart, and I'm proud to be a part of something that gives back to this incredibly welcoming community. I cannot wait to join you all in April not just as a filmmaker, but an audience member with a shared love for movies."
Further details of screenings and events will be released in the coming weeks.