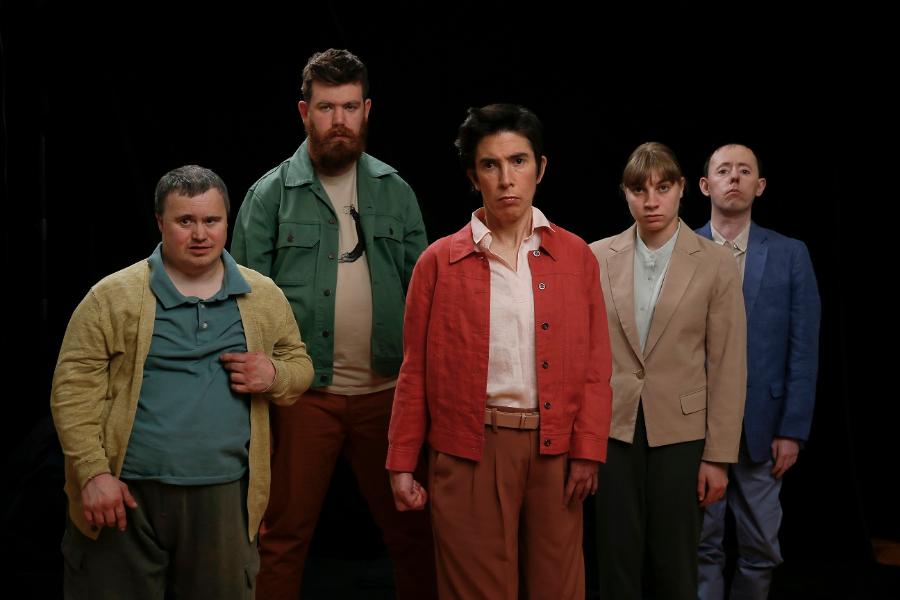 International Ibsen Award 2022 Winner Back to Back, an acclaimed Australian theatre company with an ensemble of actors with disabilities at its core, will premiere its debut feature-length film SHADOW at Edinburgh International Film Festival on 16th August 2022. Filmed in Geelong, Australia in December 2020, the film had its world premiere at SXSW this March, where it won the Audience Choice Award in the Visions Category.
In this provocative and challenging story, Simon, Scott and Sarah, a trio of disability activists desperate to save the world, hold a town hall meeting about the future impacts of artificial intelligence. However, as the meeting unravels, they discover that their own prejudices are the greatest threat of all. Dealing with individual and collective responsibility, SHADOW questions how we can come together to make decisions in the best interest of society.
SHADOW stars Back to Back's professional ensemble, withScott Price, Simon Laherty and Sarah Mainwaring in lead roles. The film also features new ensemble member Breanna Deleo, theatre veteranBrian Lipson as The Reporter and Belinda McClory (The Doctor Blake Mysteries) as the voice of the sinister A.I.
SHADOW will be premiered as part of the new Postcards from the Edge strand of EIFF, a selection of films showcasing innovative approaches and distinguished by courage, style, and a willingness to stretch boundaries. Alongside the screening, there will be a Q&A with the film's creators which will discuss the unique internship programme which ran alongside the making of the film.
After putting out a call for disabled-identifying people interested in working in film, Back to Back's internship programme matched mentees with mentors across all production departments, from makeup and costume to camera operation. Through creating meaningful paid opportunities for people with disabilities both in front of the camera and behind it, Back to Back's inclusive filmmaking model provides an environment where everyone can learn and collaborate.
SHADOW is a screen adaptation of Back to Back's 2019 work The Shadow Whose Prey the Hunter Becomes, which was co-conceived and co-authored by Back to Back's core ensemble of 6 full-time performers. The piece was adapted for film by the cast and director,Bruce Gladwin, together with script consultantsMadeline Stuart, Louise Gough and Melissa Reeves.
Bruce Gladwin: "As artists we are seeking alternative models of story creation and screen production. Created over two and a half years through conversation and improvisation, the performers are also the co-authors, 95% of the people on screen are people with disabilities, and the majority of the crew roles are fulfilled by interns who identify as people with disabilities supported by professional mentors. The narrative thematic and the film's philosophical approach to the process of creation are intrinsically linked. This is community filmmaking."
SHADOW has its UK premiere at Edinburgh International Film Festival on Tuesday 16 August at 6.30pm, with a public screening and panel Q&A with the creators of the film about the internship programme.
Tickets for the event can be booked at https://www.edfilmfest.org.uk/2022/shadow/08-16_18-30
Shadow

Director: Bruce Gladwin

Cast: Scott Price, Simon Laherty, Sarah Mainwaring

UK Release: UK Premiere Edinburgh International Film Festival on 16th August 2022