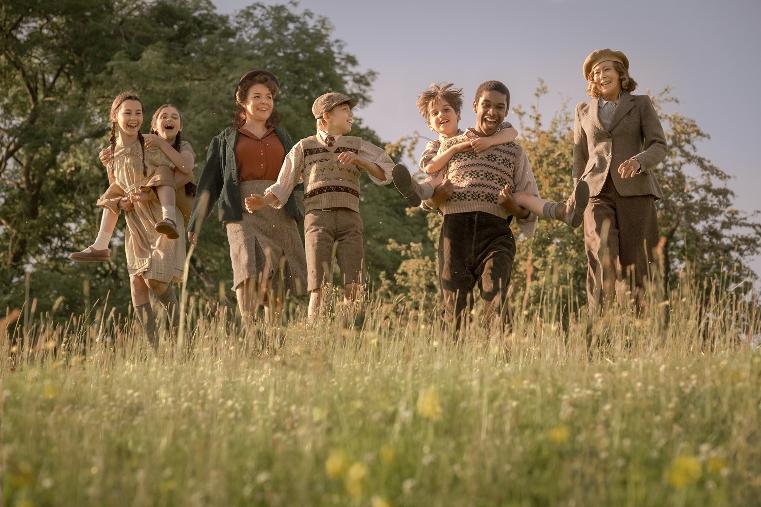 London, Paris, Yorkshire, Thursday 24 June - Production wraps on STUDIOCANAL's THE RAILWAY CHILDREN RETURN. In the first look image revealed today, a new generation of Railway Children is introduced; pictured (L-R) Beau Gadsdon (Lily), Eden Hamilton (Pattie), Sheridan Smith (Annie), Austin Haynes (Thomas), Zac Cudby (Ted), KJ Aikens (Abe) and Jenny Agutter (Bobbie).
A sequel to one of the most beloved British family films of all time is coming to cinemas on the 1st April 2022. Jenny Agutter, resuming her role from the original film, will star alongside Sheridan Smith, Tom Courtenay & a new generation of railway children.
BAFTA winning Director Morgan Matthews (X+Y) shot in key locations from the original film including Haworth, The Bronte Parsonage, Oakworth station and the iconic railways from the original film (all part of the Keighley & Worth Valley Railway).
Written by BAFTA winning Danny Brocklehurst (BRASSIC, Red Production's THE STRANGER, THE FIVE, SAFE and COME HOME) and Produced by BAFTA and award-winning Jemma Rodgers for STUDIOCANAL.
Inspired by one of the most beloved British family films of all time, THE RAILWAY CHILDREN RETURN is an enchanting adventure for a new generation bringing a contemporary sensibility to a classic story and combining British cast with stunning locations. THE RAILWAY CHILDREN RETURN will take audiences on an exciting and heart-warming journey, in which a group of children are evacuated to a Yorkshire village during World War 2, where they encounter a young soldier, who like them, is far away from home…
THE RAILWAY CHILDREN is a key title in STUDIOCANAL's celebrated Vintage Classics collection.
The fully restored Blu-ray and DVD release of THE RAILWAY CHILDREN includes a retrospective documentary and interviews with key cast Jenny Agutter, Bernard Cribbins and Sally Thomsett, the film is also available to own on Digital across all major retailers.