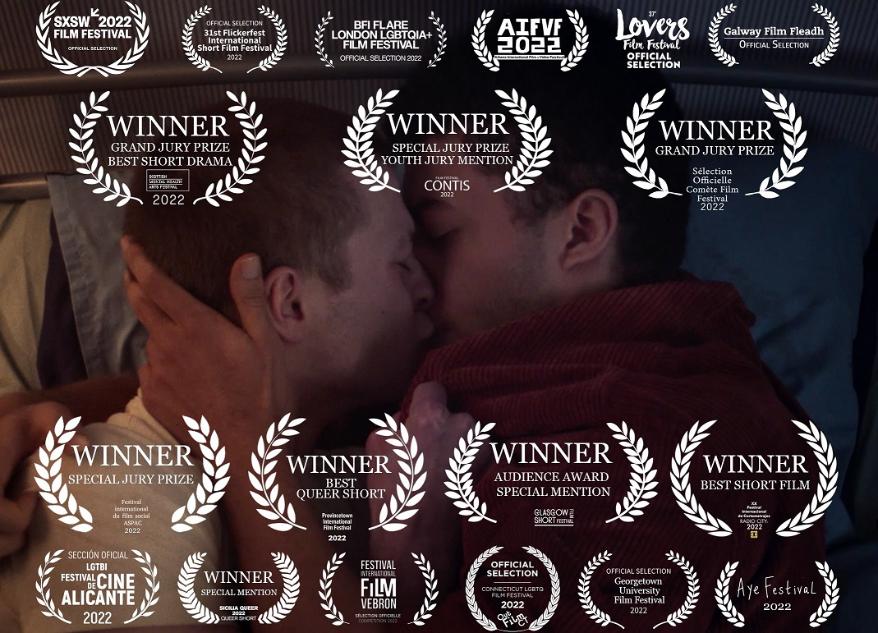 Multi Award Winning Short Film 'Too Rough' Secures BAFTA Scotland & BIFA Nominations!
Sean Lionadh's Stunning Short Secures Dual Best Live Action Short Nominations and Sells To Canal+
'Too Rough', the multi award winning short film that won over critics and shook the festival circuit throughout its 2022 run, has secured both a BAFTA Scotland and British Independent Film Awards nomination for Best Live Action Short Film, and has been acquired by French broadcaster Canal+.
Based on events in Lionadh's own life, the film was produced by Ross McKenzie and Alfredo Covelli. Too Rough follows Nick (Ruriadh Mollica), a young gay man who, after a night of intoxication wakes up next to his boyfriend Charlie (Joshua Griffin) and must conceal him from his homophobic and dysfunctional family.
Speaking about the nomination, writer/director Sean Lionadh has said:
"It's been a privilege to see the film travel the world and resonate with international audiences, and these nominations feel like it has come back home to where it was born. Thank you so much to BAFTA Scotland and BIFA, and to the amazing cast and crew who came together to make this happen".
Devil May Care Entertainment's Ross McKenzie, who produced the film alongside Scheme Pictures' Alfredo Covelli, has said:
"We are delighted with the nominations and to sit alongside our fellow nominees. Sean's courage in telling a deeply personal story, together with our extraordinary cast and crew who poured their heart and soul into making the film, has resulted in the incredible success we've achieved so far. We're delighted that BAFTA Scotland and BIFA have recognised that in our film".
Too Rough enters the 2022/23 awards race coming off the back of a stunning year. Funded by Screen Scotland and the BFI Network via Short Circuit, the film has gone down a storm on the film festival circuit, selected by 60 festivals in 15 countries including BFI Flare, SXSW, Torino LGBT Film Festival, and Flickerfest International Short Film Festival among many others since the start of 2022.
The film has also secured 20 awards including both the Audience Award and the Special Jury Mention at the Glasgow Short Film Festival and became eligible for the 2023 Academy Awards following their win for Best Queer Short at the Provincetown Film Festival.
Speaking about the film, Lionadh says:
"I often think in relationships "Am I too rough for you?". I'm always worrying if I'm too damaged for a normal relationship, and I don't think I'm the only one that experiences this. Shame is a part of everyone - and I think it's especially acute in the LGBTQ+ community and the working class. At some point, we've been told there's something wrong with us, and we should change to be more acceptable. That's what Nick, the main character, is doing for most of the film. He's in hiding. But he finds out that love can only really work if you come out of the dark and let yourself be seen as you are."
24-year-old Lionadh has built a name for himself over the past few years as a trailblazing filmmaker. Born in Glasgow, Sean's work has gained a huge online presence and left a notable social impact. His short film Time for Love, made for the BBC, reached 16 million people online, was translated into five languages and won a Royal Television Society Award. It sparked a conversation on modern day intolerance, receiving the support of the LGBTQ+ community while simultaneously being campaigned against by the Catholic church.
Since then, Sean has given a TED Talk, and released his debut poetry book Not Normal Anymore in 2019. With Covelli and McKenzie, Sean is developing his first feature film, Nostophobia, a psychological horror about an entity evoked by a gay couple as they fall in love.
Too Rough

15m
Director: Sean Lionadh

Cast: Ruaridh Mollica, Joshua Griffin, Tomas Palmer